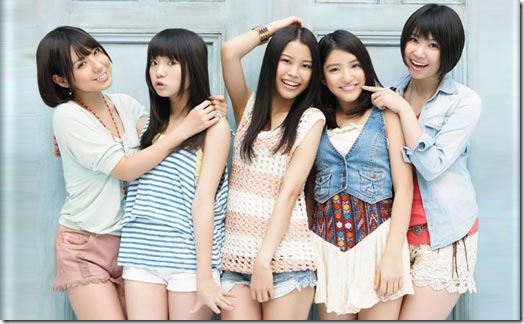 9nine has officially announced their 8th single "White Wishes" – which has tie-in with Fall anime Tonari no Kaibutsu-kun as its ending theme song. The new single is said to be a happy pop tune nestled in with lyrics of both the good and difficult times High School and Christmas can bring. Single "White Wishes" comes in five editions and hits stores December 12th. More early release details follow…
9nine also announced their 7th single a double-A side release "Iiaru! Kyonshi feat. Haohao! Kyonshi Girl / Brave" with both songs featured in TV drama "Haohao! Kyonshi Girl" (Good Good! Vampire Girl). The TV drama stars member Umika Kawashima (4th from left in photo) in the lead roll and the rest of the 9nine members with supporting roles. Their 7th single will be available November 14th – more details are available here.
Anime Tonari no Kaibutsu-kun is adapted from romantic comedy manga written and illustrated by Robico. It follows the story of high school students Mizutani Shizuku and Yoshida Haru who sit next to each other in class. Mizutani is singularly focused on her school work and future, Yoshida is suspended for getting into a fight on the first day of school. Their teacher asked Mizutani to take homework assignments to Yoshida which leads him to believe they are now friends. Mizutani isn't so sure but learns that there is more to Yoshida.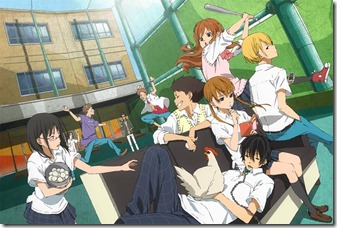 Tonari no Kaibatsu-kun begins airing late-night October 1st on TV Tokyo – no word yet on streaming outside of Japan but Crunchyroll has relationship with TV Tokyo so good chance they will simulcast it, check our Crunchyroll updates page for all the newest anime episodes.
Release details are early – check back to Comtrya Sugoi for updated information on cover jackets, full track list, and possible bonuses when they are announced.
(Pre-order links may not be available yet)
9nine – "White Wishes" – release date December 12th 2012
Limited A [CD+DVD] (¥1500)


Limited B [CD+DVD] (¥1500)


[CD]
1. White Wishes
2. undecided
3. undecided
4. White Wishes (off vocal)
5. undecided
[DVD]
1. White Wishes (music video)
2. White Wishes (dance shot ver.)
3. White Wishes (off shoot)
[CD]
1. White Wishes
2. undecided
3. undecided
4. White Wishes (off vocal)
5. undecided
[DVD]
1. Seinenkan dai Hole (May 2012) live
– Cross over
– #girls
– Ryuusei no Kuchiduke
Limited C [CD+DVD] (¥1500)


Limited Anime [CD] (¥1300)


[CD]
1. White Wishes
2. undecided
3. undecided
4. White Wishes (off vocal)
5. undecided
[DVD]
1. Seinenkan dai Hole (May 2012) live
– Fly
– Orange Days
– Wonderful World
[CD]
1. White Wishes
2. undecided
3. undecided
4. White Wishes (TV size)
5. White Wishes (off vocal)
Regular [CD] (¥1200)


 
[CD]
1. White Wishes
2. undecided
3. undecided
4. undecided
 
Tonari no Kaibutsu-kun Official website (TV Tokyo)
Tonari no Kaibutsu-kun Official website (TK anime)