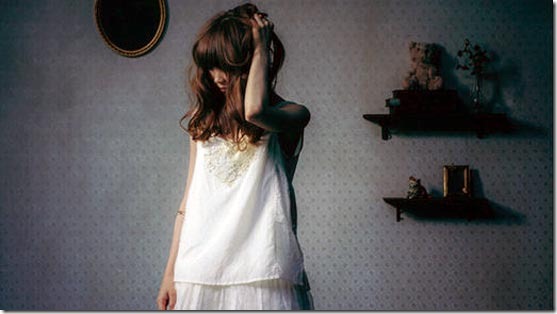 Aimer has announced her first album "Sleepless Nights"! The album includes her singles and coupling tracks since her debut one year ago plus a new song "Yako Ressha ~nothing to lose~" for 13 total tracks. "Sleepless Nights" is offered in two editions and scheduled to hit stores October 3rd. Read on for more details and pre-order link.
On August 15th Aimer just released her 4th single "Anata ni Deawanakereba ~Natsuyuki Fuyuhana~" which is featured as the ending theme song for anime Natsuyuki Rendezvous.  Her debut single "Rokutousei no Yoru" was featured as ending theme for anime No. 6 and released on September 7th 2011. "Re:pray" her second single released December 7th 2011 and was featured as ending theme for anime BLEACH.
Only Aimer's 3rd single "Yuki no Furu Machi / Fuyu no Diamond", which released February 22nd 2012 didn't have an anime tie-in.
In connection with her 4th single Aimer will hold a benefits event "Aimer Premier Live Vol.2 in planetarium" for 400 lucky fans chosen by lottery (application for lottery is included in First Press editions of the single). The event will be a mini-live at two venues, 200 people each, at the Tokyo and Osaka Planetarium September 28th and 30th respectively.
Her first album "Sleepless Nights" is comes in two editions that share the same CD track list,
– Limited with bonus DVD that includes music videos for her 4 singles. Special cover sleeve, clear case, and application ticket to special event. First Press version adds a poster.
– Regular CD-only. First Press version as application card to special event and poster.
The special event in connection with the application cards hasn't yet been announced.
Aimer – "Sleepless Nights" – release date October 3rd 2012
Limited [CD+DVD] (¥3500)


Regular [CD] (¥3060)


[CD]
1. TWINKLE TWINKLE LITTLE STAR ~prologue~
2. Yako Ressha ~nothing to lose~ (new song)
(preview)
3. Anata ni Deawanakereba ~Natsuyuki Fuyuhana~
(preview)
4. Egao
5. Re:pray
(preview)
6. Kanashimi wa Aurora ni (Restarred by Takagi Masakatsu)
7. Samishikute Nemurenai Yoru wa
8. AM02:00
9. Hoshikuzu Venus
10. Yuki no Furumachi
11. Fuyu no Diamond (Re-exchoed by Genki Rockets)
12. Rokutousei no Yoru
13. TWINKLE TWINKLE LITTLE STAR
[DVD]
1. Re:pray
2. Yuki no Furumachi
3. Anata ni Deawanakereba ~Natsuyuki Fuyuhana~
4. Rokutousei no Yoru ~NO.6 Special Edit~
[CD]
1. TWINKLE TWINKLE LITTLE STAR ~prologue~
2. Yako Ressha ~nothing to lose~ (new song)
3. Anata ni Deawanakereba ~Natsuyuki Fuyuhana~
4. Egao
5. Re:pray
6. Kanashimi wa Orora ni (Restarred by Takagi Masakatsu)
7. Samishikute Nemurenai Yoru wa
8. AM02:00
9. Hoshikuzu Venus
10. Yuki no Furumachi
11. Fuyu no Diamond (Re-exchoed by Genki Rockets)
12. Rokutousei no Yoru
13. TWINKLE TWINKLE LITTLE STAR
Aimer Premier Live Vol.2 in Planetarium