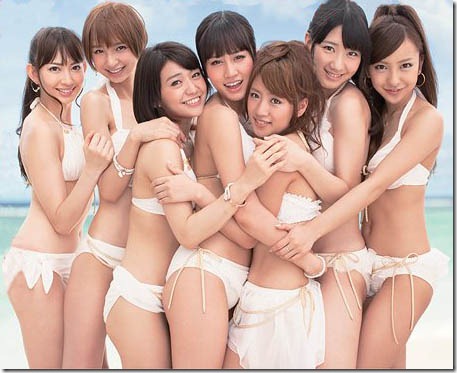 AKB48 has announced updated details for their next single "Manatsu no Sounds good!" and exposed the jacket covers for all five editions. In a previous article we announced their 26th single which is set for release on May 23rd. This single should be the final for graduating lead member Maeda Atsuko who has said she won't participate in the June General Election for the 27th single. Expectations for another record setting one million plus selling and number one charting single are high. Updated details follow,
The single comes in 5 editions, two versions of Limited Type-A with bonus DVD, two versions of Limited Type-B with bonus DVD and a Regular CD-only edition. The Limited A & B differ with track list and DVD contents and the Limited editions each have a First Press version that includes ticket to a handshake event.
All editions/versions include a photo (1 of 36) and voting card for the group's June general election event to select participants of their 27th single – voting card will only be available for singles ordered before June 1st.
AKB48 – "Manatsu no Sounds good!" – release date May 23rd 2012
(click photos to enlarge)
Limited A (First Press) [CD+DVD] (¥1600)


Limited A [CD+DVD] (¥1600)


[CD]
1. Manatsu no Sounds good!
2. Mittsu no Namida
3. Chodai, Darling
4. Manatsu no Sounds good! (off vocal)
5. Mittsu no Namida (off vocal)
6. Chodai, Darling (off vocal)
[DVD]
1. Manatsu no Sounds good! (music video)
2. Manatsu no Sounds good! (dance ver.)
3. Mittsu no Namida (music video)
4. Chodai, Darling (music video)
5. AKB48 member profiles for 27th general election (type-A)
[CD]
1. Manatsu no Sounds good!
2. Mittsu no Namida
3. Chodai, Darling
4. Manatsu no Sounds good! (off vocal)
5. Mittsu no Namida (off vocal)
6. Chodai, Darling (off vocal)
[DVD]
1. Manatsu no Sounds good! (music video)
2. Manatsu no Sounds good! (dance ver.)
3. Mittsu no Namida (music video)
4. Chodai, Darling (music video)
5. AKB48 member profiles for 27th general election (type-A)
Limited B (First Press) [CD+DVD] (¥1600)


Limited B [CD+DVD] (¥1600)


[CD]
1. Manatsu no Sounds good!
2. Mittsu no Namida
3. Gugutasu no Sora
4. Manatsu no Sounds good! (off vocal)
5. Mittsu no Namida (off vocal)
6. Gugutasu no Sora (off vocal)
[DVD]
1. Manatsu no Sounds good! (music video)
2. Manatsu no Sounds good! (dance ver.)
3. Mittsu no Namida (music video)
4. Gugutasu no Sora (music video)
5. AKB48 member profiles for 27th general election (type-B)
[CD]
1. Manatsu no Sounds good!
2. Mittsu no Namida
3. Gugutasu no Sora
4. Manatsu no Sounds good! (off vocal)
5. Mittsu no Namida (off vocal)
6. Gugutasu no Sora (off vocal)
[DVD]
1. Manatsu no Sounds good! (music video)
2. Manatsu no Sounds good! (dance ver.)
3. Mittsu no Namida (music video)
4. Gugutasu no Sora (music video)
5. AKB48 member profiles for 27th general election (type-B)
Theater Regular [CD] (¥1000)

[CD]
1. Manatsu no Sounds good!
2. Mittsu no Namida
3. Kimi no Tame ni Boku wa..
4. Manatsu no Sounds good! (off vocal)
5. Mittsu no Namida (off vocal)
6. Kimi no Tame ni Boku wa.. (off vocal)