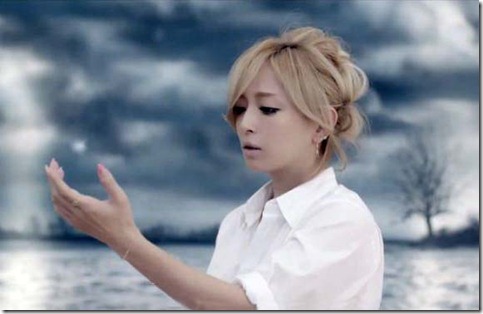 Ayumi Hamasaki has just released her new mini-album "again" and has revealed three promotional videos – a commercial message spot for the mini-album, preview music video for "Wake me up", and a short version music video for "snowy kiss". The mini-album "again" releases Saturday December 8th rather than the traditional Wednesday as part of the celebration of releases leading up to Ayumi Hamasaki's 15th anniversary on April 8th. Read on for more release details and promotional videos.
New mini-album "again" is the 2nd of her five consecutive releases and includes 4 new songs composed by Tetsuya Komura & Dai Nagao plus more for 12 total tracks. Lead track "Wake me up" has tie-in as the commercial message (CM) theme song for Sumeragi Jun Sports ~ Evergreen Life.
To celebrate her 15th anniversary Ayumi Hamasaki is having five consecutive months of releases that started with mini-album "LOVE" which released on November 8th. That mini-album includes "Song 4 u" which is featured as the theme song for game "Tales of Xillia 2". More details on this release – reported here.
The releases lead up to the 15th anniversary of Ayu's debut on April 8th 2013. The consecutive month releases are scheduled to drop on the 8th day of each month to celebrate her anniversary date. No announcement yet on what she has planned for her April anniversary day.
The third of the consecutive release has been announced – a new album tentatively titled "CLASSICAL" is planned to feature full orchestral arrangements of previously released songs. A similar album released in 2005, "My Story Classical", featured re-arranged classical versions of songs from her "My Story" album. The new album is scheduled for release on January 8th 2013 – more details available here.
Ayumi Hamasaki's 2nd special mini-album "again" comes in two editions,
– Limited with bonus DVD that includes three music videos.
– Regular CD-only.
Both editions come with a serial number card for special award when all 5 of her 15th anniversary 5-month consecutive releases (any edition) are purchased. Application period to submit all 5 codes will be March 8th-30th 2013 – no details on the possible bonuses.
Enjoy the promotional videos below the release details…
Ayumi Hamasaki – "again" – release date December 8th 2012
Limited [CD+DVD] (¥2415)


Regular [CD] (¥1575)


[CD]
1. Wake me up (Original Mix)
2. Sweet scar (Original mix)
3. snowy kiss (Original mix)
4. Ivy (Original mix)
5. Missing (Orchestra version)
6. Melody (Acoustic Piano version)
7. Wake me up (remix)
8. snowy kiss (remix)
9. Wake me up (off vocal)
10. Sweet scar (off vocal)
11. snowy kiss (off vocal)
12. Ivy (off vocal)
[DVD]
1. Wake me up (music video)
2. snowy kiss (music video)
3. Sweet scar (music video)
[CD]
1. Wake me up (Original Mix)
2. Sweet scar (Original mix)
3. snowy kiss (Original mix)
4. Ivy (Original mix)
5. Missing (Orchestra version)
6. Melody (Acoustic Piano version)
7. Wake me up (remix)
8. snowy kiss (remix)
9. Wake me up (off vocal)
10. Sweet scar (off vocal)
11. snowy kiss (off vocal)
12. Ivy (off vocal)