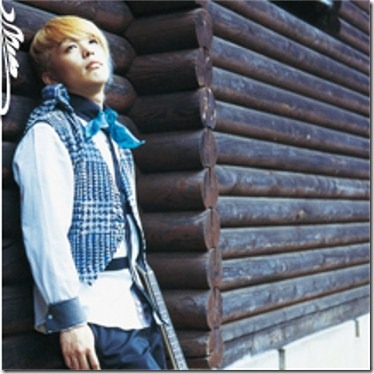 DECO*27 well known for composing VOCALOID songs has a new single "Yume Yume – feat. Hatsune Miku". The single comes in two editions, a Limited with bonus DVD and bonus mobile phone strap and a Limited with only the bonus DVD. Both CD track lists include a remixed version of the title track as well as remixed versions of songs "Nisoku Hokou" and "Ai Kotoba". Release details follow,
DECO*27 is also part of the unit galaxias! with actress/singer Shibasaki Kou and TeddyLoid – they have put out one album "galaxias!" back on November 23rd 2011 (release details).
galaxias! has a live performance at the "Nico Nico Chou Party" scheduled for April 29th 3pm at Makuhari Messe Event Hall. More details at the Official site for Nico Nico Chou Party.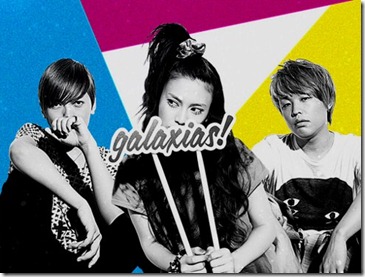 The mobile strap bonus that comes with the special Limited edition is a rubber Nendoroid like design of Hatsune Miku.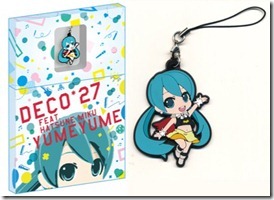 DECO*27 – "YUME YUME – feat. Hatsune Miku" – release date April 18th 2012
Limited with strap [CD+DVD] (¥2100)


Limited [CD+DVD] (¥1575)


[CD]
1. YUME YUME
2. YUME YUME (off vocal)
3. YUME YUME (sasakure.UK ElectricSheep remix)
4. Nisoku Hokou (fhana Quantum remix)
5. Ai Kotoba (i-dep 2467 remix)
[DVD]
1. YUME YUME (music video)
2. Hatsune Miku and Future Stars Project mirai (opening movie for 3DS game)
[CD]
1. YUME YUME
2. YUME YUME (off vocal)
3. YUME YUME (sasakure.UK ElectricSheep remix)
4. Nisoku Hokou (fhana Quantum remix)
5. Ai Kotoba (i-dep 2467 remix)
[DVD]
1. YUME YUME (music video)
2. Hatsune Miku and Future Stars Project mirai (opening movie for 3DS game)