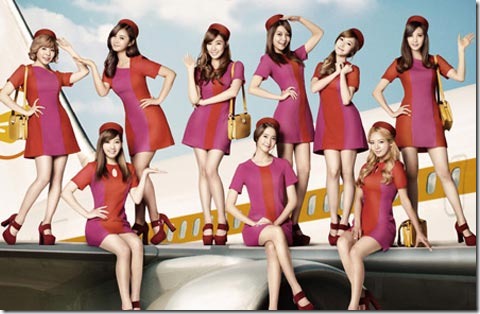 Girls Generation (SNSD) updated more information for their new Japanese album "GIRLS GENERATION II ~Girls & Peace~" – the cover jackets are official. Their 2nd Japanese album includes singles "PAPARAZZI", "Oh!", and new single "FLOWER POWER" plus new song "Girls & Peace" and more for a total of 12 tracks. "GIRLS GENERATION II ~Girls & Peace~" comes in three editions including a special Limited with extra bonuses. The album hits stores November 28th – read on for more details…
~ digest album preview video ~
Girls Generation is also getting ready to release new single "FLOWER POWER" now scheduled to hit stores on November 21st. As part of the release build-up the girls have just exposed two music videos for the title track – more details reported here.
Girls Generation has announced a 2013 Japan tour "Girls Generation Arena Tour 2013" with 14 performance dates tentatively scheduled,
– Feb 9th & 10th World Memorial Hall, Kobe
– Feb 16th & 17th Super Arena, Saitama
– Feb 27th & 28th Marine Messa, Fukuoka
– March 9th & 10th Green Arena, Hiroshima
– March 19th & 20th Super Arena, Saitama
– March 26th & 27th Castle Hall, Osaka
– April 9th & 10th NGK Insulators Hall, Nagoya
Fan club members' tickets get a special reception preceding each event – more details and ticket availability information available at their website under Live events.
Girls Generation's new Japanese album "GIRLS GENERATION II ~Girls & Peace~" comes in three editions,
– Limited A with bonus DVD scheduled to include 7 music videos, special packaging, traveler's notebook with original sticker, 9 member posters (folded), deluxe photo booklet 40-pgs.
– Limited B with bonus DVD scheduled to include 4 music videos, photo booklet 32-pgs.
– Regular CD-only.
First Press on all 3 editions adds lottery ticket for special offers – details aren't yet announced so check back to Comtrya Sugoi for updates.
Girls Generation – "GIRLS GENERATION II ~Girls & Peace~" – release date November 28th 2012
Limited A [CD+DVD] (¥7490)


Limited B [CD+DVD] (¥3990)


[CD]

1. FLOWER POWER
2. Animal
3. I'm a Diamond
4. Reflection
5. Stay Girls
6. T.O.P
7. BOOMERANG
8. Oh!
9. ALL MY LOVE IS FOR YOU
10. PAPARAZZI
11. Girls & Peace
12. Not Alone

[DVD]
1. PAPARAZZI (music video)
2. PAPARAZZI (gold ver. music video)
3. ALL MY LOVE IS FOR YOU (music video)
4. Oh! (music video)
5. Oh! (dance ver.)
6. FLOWER POWER (music video)
7. FLOWER POWER (dance ver.)

[CD]

1. FLOWER POWER
2. Animal
3. I'm a Diamond
4. Reflection
5. Stay Girls
6. T.O.P
7. BOOMERANG
8. Oh!
9. ALL MY LOVE IS FOR YOU
10. PAPARAZZI
11. Girls & Peace
12. Not Alone

[DVD]
1. PAPARAZZI (music video)
2. ALL MY LOVE IS FOR YOU (music video)
3. Oh! (music video)
4. FLOWER POWER (music video)

Regular [CD] (¥3059)


 
[CD]

1. FLOWER POWER
2. Animal
3. I'm a Diamond
4. Reflection
5. Stay Girls
6. T.O.P
7. BOOMERANG
8. Oh!
9. ALL MY LOVE IS FOR YOU
10. PAPARAZZI
11. Girls & Peace
12. Not Alone

 
Girls Generation at Universal Music Japan
Girls Generation Facebook page
Girls Generation Fanclub SONE JAPAN