The release details for new single "Yume Sekai" from singer/seiyuu Haruka Tomatsu have been updated – jacket covers, track list, and bonuses are official. The song is featured as the ending theme for upcoming anime Sword Art Online that begins airing July 7th and will be streamed outside of Japan at Crunchyroll. Updated details and music video both follow.
Haruka Tomatsu is also voicing one of the main characters Asuna in Sword Art Online which places the characters inside an online virtual reality game. As the characters play the game they become trapped and a game-over means actual death. Now they all must fighting to end the game and free themselves. Sword Art Online is adapted from light novels by Reki Kawahara who also provided the novels for Accel World.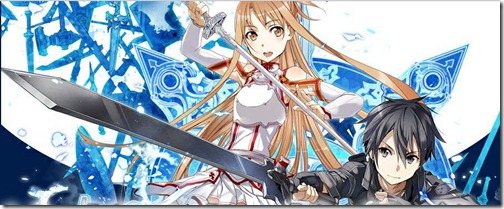 Music is provided by noted composer Yuki Kajiura (Kalafina, Noir, Puella Magi Madoka Magica, Fate/Zero).
The anime is set to run 24 episodes and begins July 7th in Japan on station Tokyo MX and will be simulcast streaming same day on Crunchyroll – check out our Crunchyroll updates page for summaries and links to all available episodes.
The opening theme for the anime will feature a new single from LiSA – "crossing field" – check out the release information here.
Preview trailer #4 for Sword Art Online follows below the single's release information.
Single "Yume Sekai" comes in three editions:
– Limited with bonus DVD that includes music video for the title track (additional tracks may be announced) and flyer.
– Limited Pressing anime theme available until the end of September, CD-only.
– Regular CD-only.
First Press versions adds a flyer for special gifts lottery:
– 10 H.A.P.P.Y. raw prize winners notified to call special number.
– 50 signed poster A
– 50 signed poster B
– 100 special CD design bookmark
– all applicants special mobile award
Music video for "Yume Sekai" follows at end of article.
Haruka Tomatsu – "Yume Sekai" – release date July 25th 2012
Limited [CD+DVD] (¥1800)


Limited Pressing anime [CD] (¥1300)


[CD]
1. Yume no Sekai
2. Issai Gassai
3. Yume no Sekai (off vocal)
[DVD]
1. Yume no Sekai (music video)
[CD]
1. Yume no Sekai
2. Issai Gassai
3. Yume no Sekai (off vocal)
Regular [CD] (¥1300)


CD]
1. Yume no Sekai
2. Issai Gassai
3. Yume no Sekai (off vocal)
Sword Art Online – trailer #4 – airs Tokyo MX July 7th, Crunchyroll simulcast
Haruka Tomatsu – Yume Sekai – single release date July 25th 2012
Sword Art Online Special promo/contest site
Sword Art Online Official website