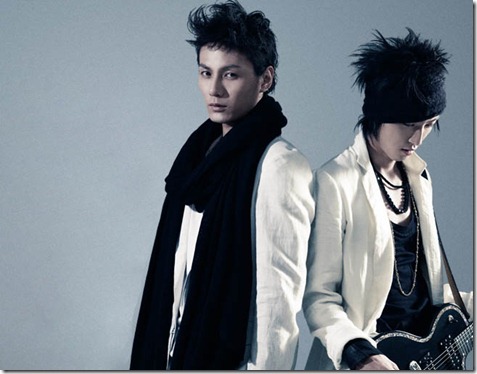 JOKER had announced their first mini-album, the self-titled – "JOKER", which will have 6 tracks and is now set for release on May 2nd. The first track on the album "Pain" was pre-released via Chaku-Uta Full and mu-mo back on February 29th and they have just exposed a short version of music video for track "Liar". More information and early release details follow,
JOKER made their debut with single release "No. 1" on December 7th 2011 and consists of duo singer/actor Kazuki Kato and guitarist Koji Date. The unit's song style is described as "pleasant digital rock".
The track "Pain" is featured as the image song of drama "Recipient" and written by Tetsyta Komuro.
The mini-album will come in three editions, a Limited A with bonus DVD, a Limited B with bonus DVD (differs from A version), and a Regular CD-only version with bonus 7th track. First Press editions for each add a photo (1 of 3), entry ticket for drawings – signed accessory and maybe even a BBQ dinner – more details will be announced, and ticket for launch event.
Release details are still early, no cover jackets or full track list yet – check back to Comtrya Sugoi for updated details when they are announced.
Video preview for track "Liar" follow below the release information.
JOKER – "JOKER" – release date May 2nd 2012.
Limited A [CD+DVD] (¥2730)


Limited B [CD+DVD] (¥2520)


[CD]
1. Pain
2. Liar
3-6. tba
[DVD]
2. Liar (music video)
2. Liar (off shoot)
[CD]
1. Pain
2. Liar
3-6. tba
[DVD]
2. JOKER interview
2. JOKER (off shoot footage)
Regular [CD] (¥2100)


 
[CD]
1. Pain
2. Liar
3-6. tba
7. tba (bonus track)
 
JOKER first mini-album "JOKER" – release date May 2nd 2012