Kazuki Kato has announced new single Legend Is Born with tie-up as the opening theme for anime MAJIN BONE (マジンボーン). Its his solo 10th single and also commemorates his 10th year as a singer/actor. Single Legend Is Born comes on three editions scheduled for release on June 4th 2014 – read on for more details and anime preview…
~ updated details ~
Its been almost four years since Kazuki Kato released his 9th solo single Shakunetsu Finger de Fever! (2010.07.28). Most recently he formed unit JOKER with guitarist Koji Date. They made their debut with single release No. 1 (2011.12.07) and most recently released first album OVER on December 5th 2012 (more details).
As an actor Kazuki Kato (29) is best known for his roll as Kazama Daisuke / Kamen Rider Drake and Keigo Atobe in The Prince of Tennis musicals.
Anime MAJIN BONE is an original anime from Bandai and Toei Animation which follows story ordinary high school student Ryuujin Shougo who's peaceful days are about to end. The creator of the universe – Majin has revived and darkness has descended on Earth. The Dark Bone appears before Ryuujin but before he is killed a card appears before Ryuujin. Touching the card transforms Ryuujin into Dragon Bone fighter.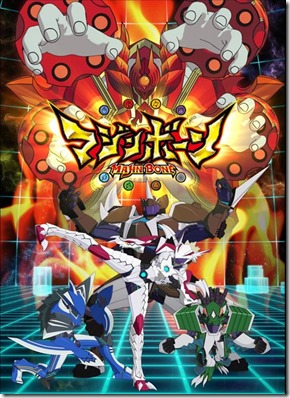 The anime began airing on TV Tokyo April 1st 2014 and outside of Japan provider Crunchyroll is simulcasting. Check our Crunchyroll updates page for all the latest anime or hit the link for MAJIN BONE for episodes and related stories.
Single Legend Is Born comes on three editions that share the same CD track list (details subject to change). The Limited and Regular First Press editions include bonus photo (varies by store) and MAJIN BONE data card.
Jacket covers, full track list, and more details will be announced, come back to Comtrya Sugoi for updates. Watch the newest trailer for anime MAJIN BONE below the release details.
Kazuki Kato – Legend Is Born – release date June 4th 2014
Limited [CD+DVD] (¥1800)

Regular A [CD] (¥1000)

[CD]
1. Legend Is Born
lyrics: Fujimori Shoko, music: Darvish P

2. undecided
3. Legend Is Born (off vocal)
4. undecided (off vocal)
[DVD]
1. Legend Is Born (music video)

[CD]
1. Legend Is Born
2. undecided
3. Legend Is Born (off vocal)
4. undecided (off vocal)
Regular B anime themed [CD] (¥1000)

 
[CD]
1. Legend Is Born
2. undecided
3. Legend Is Born (off vocal)
4. undecided (off vocal)
 
Legend Is Born special website