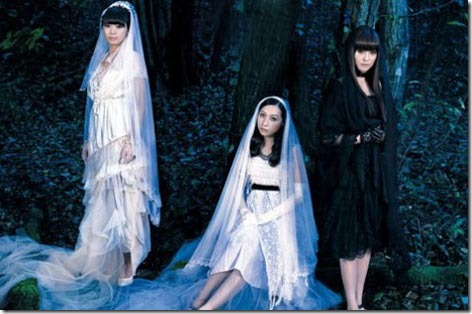 Kalafina has announced a compilation album "5th Anniversary LIVE SELECTION 2009-2012" consisting of their best songs recorded at concert events from 2009 thru 2012. The release comes on 2 CDs and includes songs from their debut "oblivious" to "to the beginning" and more (full track list pending). Kalafina's 5th anniversary live album is available in two editions and is scheduled to be in stores January 23rd. Read on for more early release details and pre-order link…
~ updated details ~
Kalafina is a vocal group formed by talented composer Yuki Kajiura who has provided sound track music for anime since 1996 most currently for Sword Art Online. Kajiura has also created several vocal groups, providing the music, creative talent, and a times the vocals for See-Saw, FictionJunction, and Kalafina (two members are also part of FictionJunction) .
Since debuting in 2008 Kalafina has contributed many anime opening and ending theme songs, such as "Kagayaku Sora no Sijima ni wa" for Black Butler II, "Hikari no Senritsu" for So-Ra-No-Wo-To, "Magia" for TV series Puella Magi Madoka Magica , and "to the beginning" (April 18th) for Fate/Zero.
Most recent Kalafina released their 12th single "Hikari Furu" featured as the theme for anime movie Puella Magi Madoka Magica The Eternal Story (Eien no Monogatari). The single hit stores on October 24th – more details reported here.
As part of their 5th anniversary Kalafina has 3 live performances scheduled X'mas Premium LIVE 2012 'Kalafina with Strings' – more details at Kalafina's website (link at bottom).
– Dec 19th 6:00pm Katsushika Symphony Hills Mozart Hall, Tokyo (newly added)
– Dec 21st 6:00pm Katsushika Symphony Hills Mozart Hall, Tokyo
– Dec 22nd 6:00pm Sankei Hall Breeze, Osaka
Kalafina also just announced a special anniversary performance "Kalafina 5th Anniversary LIVE ~oblivious~" which will feature the songs from their new live compilation album. The live is scheduled for album's release date January 23rd 6:00pm at Shibuya O-EAST.
Album "5th Anniversary LIVE SELECTION 2009-2012" comes in two editions,
– Limited 2CD with bonus DVD+Blu-ray that include music videos from "oblivious" to Hikari Furu", 60-page booklet, and special packaging.
– Regular 2CD-only.
Cover jackets, full track list, and possible bonuses will be announced so come back to Comtrya Sugoi for updates.
Kalafina – "5th Anniversary LIVE SELECTION 2009-2012" – release date January 23rd 2013
Limited [2CD+DVD+BD] (¥8000)


Regular [2CD] (¥3900)


[CD]
contents undecided
[DVD/BD]
contents undecided
[CD]
contents undecided