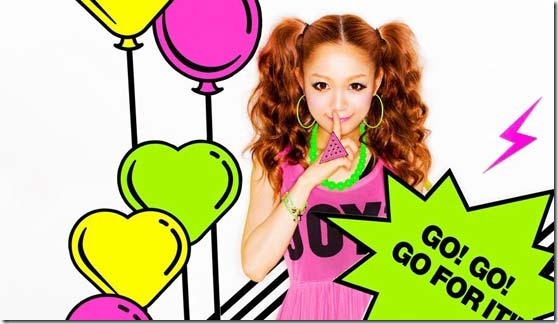 Pop singer Kana Nishino has announced her 3rd single of 2012 "GO FOR IT !!". The single comes in two editions and is set for release on July 25th. It has also been determined that the new single will be used as the CM song for Yamazaki 'Ranchi Pakku'. Full release details follow.
Kana Nishino has written the lyrics for this new summer pop tune. Not announced who she has collaborated with on this new single. Many of her previous songs including single "Watashitachi" released May 23rd (release details) were composed and produced by Giorgio Cancemi who collaborates with many jpop artists as well as fronts NERDHEAD.
"GO FOR IT !!" is available in two editions:
– Limited with bonus DVD that includes live event digest footage from – "The Nishino Family Party 2012" and a lottery ticket for the  "Kanayan Tour 2012 ~Arena~" with events starting October 13th through November 24th.
– Regular CD-Only
More bonus details may be announced so check back to Comtrya Sugoi for updates.
Kana Nishino – "GO FOR IT !!" – release date July 25th 2012
Limited [CD+DVD] (¥1500)


Regular [CD] (¥1223)


[CD]
1. GO FOR IT !!
2. TALK TO ME
3. SUMMER TIME
[DVD]
1. "The Nishino Family Party 2012 ~Digest~"
[CD]
1. GO FOR IT !!
2. TALK TO ME
3. SUMMER TIME