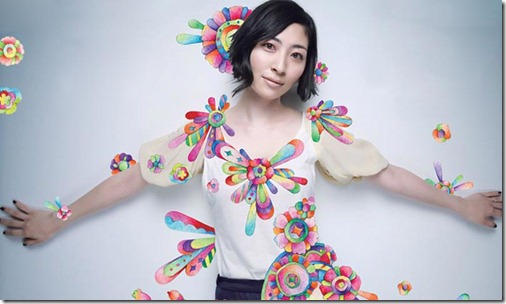 Maaya Sakamoto has updated release information for her new compilation album "Single Collection + Mitsubachi" – complete track list and cover jackets are revealed. The compilation album contains her singles released from 2005 – 2012 plus some song remix versions and new song "Nekoze" composed by Yoko Kanno for a total of 17 tracks. Maaya Sakamoto's new album hits stores November 14th – read on for the updated release details.
"Single Collection + Mitsubachi" is Maaya Sakamoto's third singles collection – her first "Single Collection + Hotchpotch" released in 1999 and her second "Single Collection + Nikopachi" released in 2003 – its been nine years and many great singles since.
Her most recent single "More Than Words", which is part of the album, is featured as the theme song for anime OVA movie "Code Geass: Boukoku no Akito" (Akito the Exiled) that hit theaters in Japan on August 4th. More details available in a previous post. The DVD/Blu-ray of this first of 4 OVA movies is announced for release January 29th 2013 – get more details here.
Maaya Sakamoto is a prolific voice actress in anime as well as having the majority of her singles with tie-ins as anime theme songs. Collaborating with her on "More Than Words" was the legendary Yoko Kanno. Kanno also collaborated on Maaya Sakamoto's debut single in 1996, "Yakusoku wa Iranai" which was featured as opening theme for classic anime "The Vision of Escaflowne".
Maaya Sakamoto has also announced a separate Blu-ray & DVD release -  "Maaya BEST CLIPS" of her music videos which will have the same content as the Blu-ray included in the Limited edition of this release. The release will come out January 23rd 2013 – details will follow in a new report.
The singles compilation album "Single Collection + Mitsubachi" comes in two editions, both editions are on a high quality SHM-CD format (compatible with most all CD players),
– Limited with bonus Blu-ray that includes all music videos released for the singles included on the album.
– Regular CD-only.
Cover jackets and possible bonuses will be announced so check back to Comtrya Sugoi for updates.
Maaya Sakamoto – "Single Collection + Mitsubachi" – release date November 14th 2012
Limited [SHM-CD+BD] (¥6300)


Regular [SHM-CD] (¥2625)


[CD]
1. Loop (ED Tsubasa Chronicles)
2. Magic Number (OP Kobato)
3. DOWN TOWN (OP And Yet The Town Moves)
4. Triangular ( OP Macross Frontier)
5. Saigo no Kajitsu (ED Tsubasa Tokyo Revelations)
6. Spica (Insert song Tsubasa Chronicles)
7. Action! (OP CLAMP IN WONDERLAND 2)
8. Yasashisa ni Tsutsumareta Nara (OP Tamayura)
9. Ame ga Furu (ED Linebarrels of Iron) 
10. Buddy (Last Exile ~Ginyoku no Fam~)
11. Private Sky
12. Kazemachi Jet ~ Mitsubachi ed. (ED2 Tsubasa Chronicles)
13. More Than Words (Code Geass: Akito the Exiled)
14. Okaerinasai (OP Tamayura – Hitotose)
15. Praline
16. April Fools featuring Maaya Sakamoto
17. Nekoze (new song)
[BD]
1. Saigo no Kajitsu
2. Triangular
3. Ame ga Furu
4. Magic Number
5. everywhere
6. DOWN TOWN
7. Himitsu
8. Buddy
9. Okaerinasai
10. Driving in the silence (short movie)
11. More Than Words
12. Universe
[CD]
1. Loop (ED Tsubasa Chronicles)
2. Magic Number (OP Kobato)
3. DOWN TOWN (OP And Yet The Town Moves)
4. Triangular ( OP Macross Frontier)
5. Saigo no Kajitsu (ED Tsubasa Tokyo Revelations)
6. Spica (Insert song Tsubasa Chronicles)
7. Action! (OP CLAMP IN WONDERLAND 2)
8. Yasashisa ni Tsutsumareta Nara (OP Tamayura)
9. Ame ga Furu (ED Linebarrels of Iron)
10. Buddy (Last Exile ~Ginyoku no Fam~)
11. Private Sky
12. Kazemachi Jet ~ Mitsubachi ed. (ED2 Tsubasa Chronicles)
13. More Than Words (Code Geass: Akito the Exiled)
14. Okaerinasai (OP Tamayura – Hitotose)
15. Praline
16. April Fools featuring Maaya Sakamoto
17. Nekoze (new song)
Maaya Sakamoto Single Collection + Mitsubachi special website