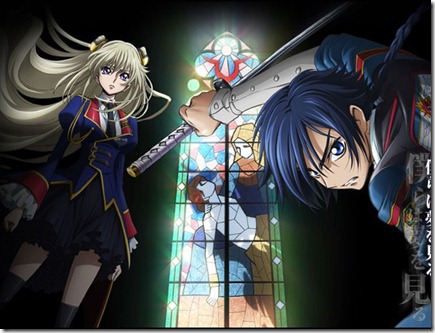 Lots of new Code Geass projects announced including a new OVA/movie "Code Geass: Boukoku no Akito" (Akito the Exiled) that is due out this summer. Voice actress Maaya Sakamoto will play the heroine Reira Marukaru, a former noblewoman of Britannia and the Waivan unit commander.
Sakamoto will also be working *again with composer Yoko Kanno and lyricist Iwasato Yuho to bring the theme song for the project. Hit the jump for a bit more info and the 90 second "Code Geass: Boukoku no Akito" preview,
Code Geass: Akito the Exiled
*Interestingly the same team of Kanno/Iwasato worked with Maaya Sakamoto back in 1996 with her debut song "Yakusoku wa Iranai" that was "The Vision of Escaflowne" anime's opening theme. Sakamoto also made her voice acting debut in the anime's title role of Hitomi Kanzaki.
Source: Code Geass: Boukoku no Aikto project website & information blog