TV Asahi's music show "MUSIC STATION" guest lineup for the Friday February 17th airing has been released – AKB48, THE BAWDIES, FUNKY MONKEY BABYS, V6, and Naoto Inti Raymi – are set to perform. More details on the performances follow,
Many will be tuning in to catch AKB48's performance of their new single, "GIVE ME FIVE!" and to see "Baby Blossom" perform – the special group formed of the 18 senbatsu members where they are all playing their own instruments.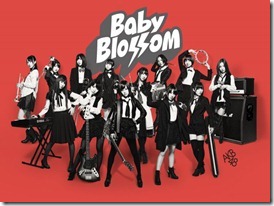 Also performing on the show for the first time is group THE BAWDIES to perform their new single "ROCK ME BABY".
Enjoy their live performance on MUSIC STATION!
MUSIC STATION – TV Asahi on February 17th, 2012 (Friday) 20:00 to 20:54


AKB48 – "GIVE ME FIVE!"
Single – "GIVE ME FIVE!"
Release date February 15th 2012


THE BAWDIES – "ROCK ME BABY"
Single – "ROCK ME BABY"
Release date February 8th 2012


FUNKY MONKEY BABYS – "Kono Sekai ni Umareta Wake"
Single – "Kono Sekai ni Umareta Wake"
Release date February 15th 2012


V6 – "Bari Bari BUDDY!"
Single – "Bari Bari BUDDY!"
Release date February 15th 2012


Naoto Inti Raymi – "Kimi ni Aitakatta"
Single – "Kimi ni Aitakatta"
Release date February 8th 2012
Source: MUSIC STATION TV Asahi Official Website