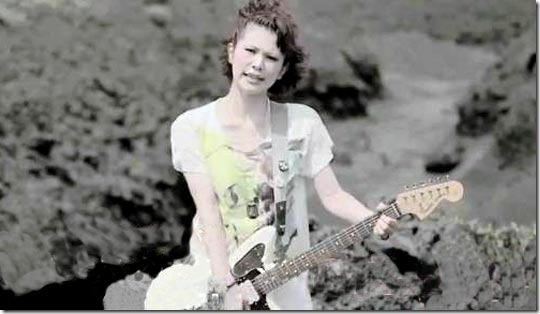 nano.RIPE has updated the release details on their 2nd album "Plus to Minus no Shikumi". The full track list and cover jackets are revealed. The new album includes their previously released singles "Yuki no Sei", "Esoragoto", and most recent "Real World" along with several new songs for a total of 14 tracks. The group also released a preview music video for new song "Number Zero". Album "Plus to Minus no Shikumi" is set to hit stores October 3rd – updated details and preview video follow.
nano.RIPE's recent single "Real World" is featured as the opening theme song for anime Jinrui wa Suitai Shimashita (Humanity Has Declined) . The single released on July 25th (more details). The band's previous single "Esoragoto", was released on May 26th and was featured as opening theme for zombie anime Sankarea (more details).
Catch nano.RIPE along with many other artists at the huge Inazuma Rock Festival 2012 on September 15th & 16th – other artists performing abingdon boys school, SCANDAL, Stereopony, U-KISS, and many more.
New album "Plus to Minus no Shikumi" comes in two editions that share the same CD track list,
– Limited with bonus DVD that includes music video and off-shoot for new song "Number Zero" plus 6 songs performed live during their 2012 tour stop at BLAZE Shinjuku on July 7th.
– Regular CD-only.
An earlier report announcing the new album includes a video clip from nano-RIPE's BLAZE (Shinjuku) live performance that's part of the Limited DVD. Check that out here.
The preview video for "Number Zero" after release details…
nano.RIPE – "Plus to Minus no Shikumi" – release date October 3rd 2012
Limited [CD+DVD] (¥3500)


Regular [CD] (¥3000)


[CD]
1. Utsukushi Sekai
2. Boku Nari no Otogibanashi
3. Escoragoto
4. Ad Balloon
5. Answer Song
6. Number Zero
7. Yosuga
8. Yuki no Sei
9. Peji no Naka de
10. Real World 
11. Sakugoe
12. Kaeri Michi
13. Goodbye
14. Gakusen 
[DVD]
1. Number Zero (music video)
2. Number Zero (off shoot)
3. Live Performance BLAZE Shinjuku July 2012
– Boy Eizou
– Ad Ballon
– Tsukikage to Buranko
– 15 seconds
– Virtual boy
– Omokage Warp
[CD]
1. Utsukushi Sekai
2. Boku Nari no Otogibanashi
3. Escoragoto
4. Ad Balloon
5. Answer Song
6. Number Zero
7. Yosuga
8. Yuki no Sei
9. Peji no Naka de
10. Real World
11. Sakugoe
12. Kaeri Michi
13. Goodbye
14. Gakusen