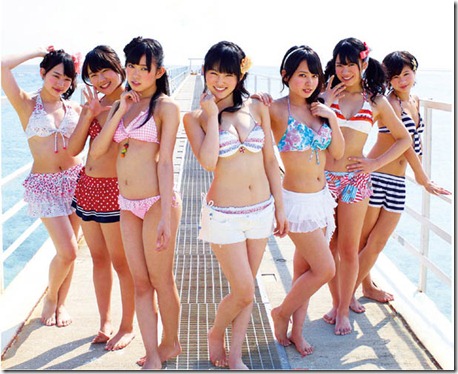 NMB48 has released the cover jackets and track list for their new single "Nagiichi" which is scheduled for release on May 9th. The group has also just exposed a preview teaser video for their 4th single via their official YouTube channel. We previously posted early release details for the single with list of those members selected to participate. The Osaka based sister group of AKB48 was formed in 2011 is hoping for another number one charting single as their previous three singles all charted number one with each selling over 200,000 in its opening week. Updated release details and teaser video follow,
The single will come in 4 editions, a Limited A, B, & C each with bonus DVD (different) and each as a different 3rd coupling track, and a music theater CD-only edition that is only available at the NMB48 shop.
First Press editions of the Limited editions add bonuses of handshake event ticket and a trading card types A, B, & C (1 of 16) (48 different).
Preview video for "Nagiichi" follows after the updated release details.
NMB48 – "Nagiichi" – release date May 9th 2012
Limited A [CD+DVD] (¥1600)


Limited B [CD+DVD] (¥1600)


[CD]
1. Nagiichi
2. Rifujin Ball (Under Girls) 
3. Saigo no Katarushisu (shiro-gumi)
4. Nagiichi (off vocal)
5. Rifujin Ball (off vocal)
6. Saigo no Katarushishu (off vocal)
[DVD]
1. Nagiichi (music video)
2. Saigo no Katarushisu (music video)
3. Nagiichi (dance ver.)
4. NMB48 Haru no Gakuryoku Test (part A)
[CD]
1. Nagiichi
2. Rifujin Ball (Under Girls)
3. Boku ga Mosukoshi Daitan Nara (aka-gumi)
4. Nagiichi (off vocal)
4. Rifujin Ball (off vocal)
5. Boku ga Mosukoshi Daitan Nara (off vocal)
[DVD]
1. Nagiichi (music video)
2. Boku ga Mosukoshi Daitan Nara (music video)
3. Nagiichi (dance ver.)
4. NMB48 Haru no Gakuryoku Test (part B)
Limited C [CD+DVD] (¥1600)


Theater NMB48 Shop [CD] (¥1000)

[CD]
1. Nagiichi
2. Rifujin Ball (Under Girls)
3. Hatsukoi no Yukue to Play Ball (NMB 7)
4. Nagiichi (off vocal)
5. Rifujin Ball (off vocal)
6. Hatsukoi no Yukue to Play Ball (off vocal)
[DVD]
1. Nagiichi (music video)
2. Nagiichi (dance ver.)
3. NMB48 feat Yoshimoto Shinkigeki Vol. 3
[CD]
1. Nagiichi
2. tba
NMB48 – Nagiichi – release date May 9th 2012
Via: natalie