December 15, 2012
-
toyNN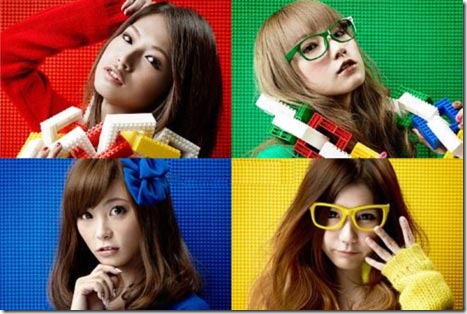 Girl band SCANDAL has updated the release details for new album "Encore SHOW"  – cover jackets are revealed. Their new album features a compilation of best b-side tracks from many of their previously released singles. Included from single "Haruka" (2011.4) is track "Satisfaction" which is currently featured in commercial messages (CM) in Japan for Windows 8. Also included on CD for the first time is track "PLAY BOY". Album "Encore SHOW" includes 17 total tracks and is scheduled to hit stores February 6th 2013 – read on for more release details and CM video…
~ updated details, video message from SCANDAL ~
SCANDAL will also provide a theme song for new movie Kyo Koi wo Hajimemasu with track "Happy Collector". The movie debuted December 8th in Japan and is adapted from manga by Kanan Minami (2008). The movie includes songs from 12 artists including SCANDAL, Perfume, NEGOTO, Mika Nakashima, MAY'S, 7!! and more. Song will be included on album "Encore SHOW". More information at the movie's official website (link below).
Haruna, Mami, Tomomi, and Rina will be holding their Christmas live BEST★Xmas4 event 5:00pm December 23rd at Ebisu Garden Hall, Tokyo. The event is sold-out now!
SCANDAL as announced a couple of lives for 2013,
– A special home town event Wonderful Tonight March 3rd 2013 3:00pm at Osaka Castle Hall. Fan club members can reserve tickets now, general release is January 19th. 
– Fans in Indonesia get SCANDAL Live in Jakarta 2013 with one performance scheduled for March 13th 8:00pm at Tennis Indoor Seneyan. More details for this event at link below.
Album "Encore SHOW" comes on two editions,
– Limited with DVD that includes music video for track "Satisfaction" plus live footage from free concert held at Shiroten Osaka. Includes special event application ticket (details to be announced).
– Regular CD-only. First Press version includes sticker (1 of 5) and special event application ticket (details to be announced).
The Japan Windows 8 CM featuring "Satisfaction" by SCANDAL follows below the release details..
SCANDAL – "Encore SHOW" – release date February 6th 2012
Limited [CD+DVD] (¥3500)


Regular [CD] (¥3060)


[CD]

1. S.L. Magic
2. TOKYO
3. Natsuneiro
4. FUTURE
5. SO EASY
6. Hoshi no furu yoru ni 
7. KOSHI-TANTAN
8. Midnight Television
9. Shining Sun
10. CUTE!
11. Emotion
12. Satisfaction
13. Want you
14. Kimi ni Shittochuu 
15. Hikare
16. Happy Collector
17. PLAY BOY
[DVD]
1. Satisfaction (music video)
2. Live footage concert Shiroten Osaka

[CD]

1. S.L. Magic
2. TOKYO
3. Natsuneiro
4. FUTURE
5. SO EASY
6. Hoshi no furu yoru ni
7. KOSHI-TANTAN
8. Midnight Television
9. Shining Sun
10. CUTE!
11. Emotion
12. Satisfaction
13. Want you
14. Kimi ni Shittochuu
15. Hikare
16. Happy Collector
17. PLAY BOY
Kyo Koi wo Hajimemasu Movie Official website