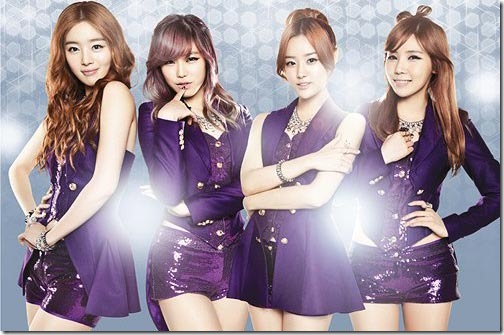 ~ updated release information – jump ~
Korean girl group Secret has announced their first Japanese album "WELCOME to SECRET TIME". Its been one year since Secret made their Japanese debut with single "Madonna" and they have released three additional singles since. The latest was "TWINKLE TWINKLE" on June 13th and this single was featured as the ending theme for anime "NARUTO SD: Rock Lee no Seishun Full Power Ninden". All four singles will be part of their first album which is set for release on August 22nd. More early release details follow..
The early track list for "WELCOME to SECRET TIME" includes Secret's four Japanese singles: "Madonna", "Shy Boy", Korekurai no Sayonara", and "TWINKLE TWINKLE". The album will also include Japanese versions of Secret's hit Korean songs – "Ai wa Move" and "Starlight Moonlight" – and classic song "Warananai de" with a new arrangement. In addition to these seven songs there are 5 more planned for a total of 12 tracks (subject to change).
The album comes in three editions that share the track list:
– Limited A with bonus DVD that includes footage from their 1st Japanese Tour stop at ZEPP Tokyo on March 8th. Photo card (1 of 4).
– Limited B with bonus DVD that includes music videos for the 4 previously released singles and for lead song on album "Ai wa Move" and making-of footage for "Ai wa Move". Photo card (1 of 4).
– Regular CD-only. First Press version as photo card (1 of 4)
Secret will hold a special release and Secret 1st Anniversary Party for their mobile phone fan club members. The event will be August 3rd somewhere in Tokyo for 200 lucky members. They will get to hear the album and view the footage from the Limited A DVD – 1st Japanese Tour at ZEPP Tokyo March 8th. Deadline is July 25th. See Secret's website for more details (links at bottom of article).
Track list and jacket covers will be announced so check back to Comtrya Sugoi for updates.
Secret – "WELCOME to SECRET TIME" – release date August 22nd 2012
Limited A [CD+DVD] (¥5500)


Limited B [CD+DVD] (¥3900)


[CD]
1. Madonna (album ver.)
2. Shy Boy
3. Starlight Moonlight
4. TWINKLE TWINKLE
5. Ai wa Move
6. Korekurai no Sayonara
7. Warananai de (new arrangement)
8-12. to be announced
[DVD]
1. 1st Japanese Tour Live at ZEPP Tokyo March 8th 2012 (digest footage)
[CD]
1. Madonna (album ver.)
2. Shy Boy
3. Starlight Moonlight
4. TWINKLE TWINKLE
5. Ai wa Move
6. Korekurai no Sayonara
7. Warananai de (new arrangement)
8-12. to be announced
[DVD]
1. Ai wa Move (music video)
2. Ai wa Move (off shoot)
3. Madonna (music video)
4. Shy Boy (music video)
5. Korekurai no Sayonara (music video)
6. TWINKLE TWINKLE (music video)
Regular [CD] (¥3150)


 
[CD]
1. Madonna (album ver.)
2. Shy Boy
3. Starlight Moonlight
4. TWINKLE TWINKLE
5. Ai wa Move
6. Korekurai no Sayonara
7. Warananai de (new arrangement)
8-12. to be announced