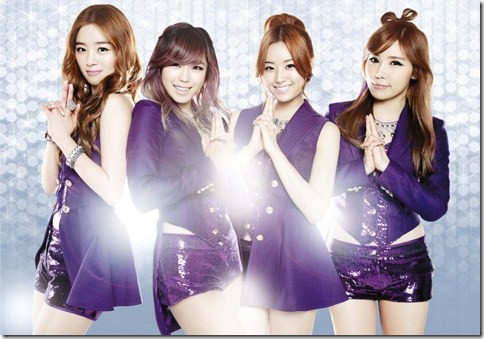 Secret has released updated details for "Twinkle Twinkle" – jacket covers and track list are official. The single, the Korean group's 4th Japanese release, is due out on June 13th. Previously we posted early details here for this singe which is currently featured as the ending theme for Spring anime "NARUTO SD: Rock Lee no Seishun Full Power Ninden". Updated release details follow,
Collaborating with Secret on the Japanese songs is Ishiwatari Junji who worked with Secret on their previous Japanese single releases. This single will be produced by Hans W. who has worked with follow Korean group KARA.
"Twinkle Twinkle" will come in three editions:
– Limited with bonus DVD that includes music video for Twinkle Twinkle and making of the music video.
– Limited Pressing Anime edition with special packaging and bonus TV size version of "Twinkle Twinkle" (lyrics differ). This edition is only available until June 30th.
– Regular CD-only edition.
The anime "NARUTO SD: Rock Lee no Seishun Full Power Ninden" started on April 3rd and features Super Deformed characters from NARUTO and centered around character Rock Lee. Streaming site Crunchyroll has the anime 1 hour after it airs in Japan and you can get the summary of all the new anime episodes when they are available at Crunchyroll here – Crunchyroll Simulcast Updates.
The music video for "Twinkle Twinkle" is available for those within Japan via Sony Entertainment's official YouTube channel – http://www.youtube.com/watch?v=jeDc9_-rIyk
Secret – "Twinkle Twinkle" – release date June 13th 2012
Limited [CD+DVD] (¥1600)


Limited Pressing Anime [CD] (¥1300)


[CD]
1. Twinkle Twinkle
2. First Kiss
[DVD]
1. Twinkle Twinkle (music video)
2. Twinkle Twinkle (off shoot)
[CD]
1. Twinkle Twinkle
2. First Kiss
3. Twinkle Twinkle (TV size)
Regular [CD] (¥1100)


[CD]
1. Twinkle Twinkle
2. First Kiss