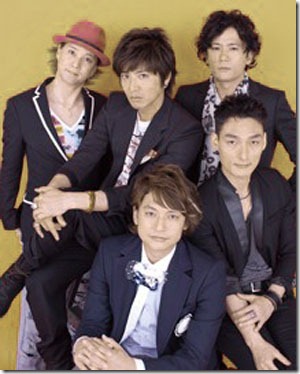 SMAP as revealed their first single of 2012 and 47th overall – "Sakasama no Sora" – the title track featured as the theme song for TV morning drama series "Ume-chan Sensei". The new single is a collaboration with composer Yoko Kanno and set for release on April 25th. Release details follow,
The single will be available in two* editions, a Limited with bonus DVD that includes music video and making-of video for the title track and regular CD-only edition. First Press versions for both offer a bonus poster and Regular edition also includes a jacket size sticker.
*Actually there is a third edition of the single available only at the newly opened SMAP Official Shop via 7net Shopping. This edition features different cover jacket and bonus postcard but other wise identical to the Limited edition version.  http://www.7netshopping.jp/spc/shop/smap/
Title of the single translates as "Upside-down Sky" as reflected in the jacket covers.
SMAP – "Sakasama no Sora" – release date April 25th 2012
Limited [CD+DVD] (¥1500)


Regular [CD] (¥1155)


[CD]
1. Sakasama no Sora
2. Keep my love
3. Sakasama no Sora (off vocal)
4. Keep my love (off vocal)
[DVD]
1. Sakasama no Sora (music video)
2. Sakasama no Sora (off shoot)
[CD]
1. Sakasama no Sora
2. Keep my love
3. Sakasama no Sora (off vocal)
4. Keep my love (off vocal)
7net Shopping [CD+DVD] (¥1500)

 
[CD]
1. Sakasama no Sora
2. Keep my love
3. Sakasama no Sora (off vocal)
4. Keep my love (off vocal)
[DVD]
1. Sakasama no Sora (music video)
2. Sakasama no Sora (off shoot)