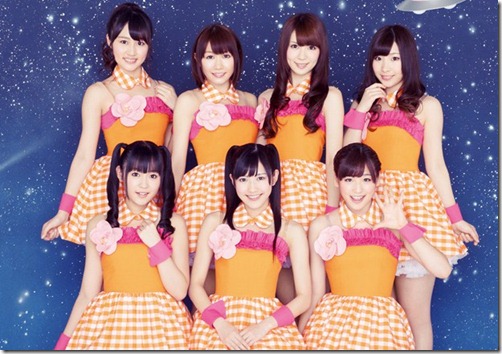 Idol group Watarirouka Hashiritai 7 has a new single "Shonen yo Uso wo Tsuke!", their first of 2012 and 10th overall, announced for release on May 30th. The group is a sub-group of mega idol group AKB48 and also known as Corridor Running Team 7. The single is featured as theme song for the Crayon Shin-chan movie "Crayon Shin-chan: Arashi o Yobu! Ora to Uchū no Princess" that hit theaters in Japan on April 14th. More details on the single release follow,
Watarirouka Hashiritai 7 consists of AKB48 members: Mayu Watanabe, Nakagawa Haruka, Kikuchi Ayaka, Komori Mika, Iwasaki Misaki, Oota Aika, Urano Kazumi (new).
Their new single comes in four editions:
  – Limited A with bonus DVD that includes music video and additional footage (type A)
  – Limited B with bonus DVD similar to type A but with type B additional footage
  – Limited C with bonus DVD similar to type A but with type C additional footage
  – Regular CD-only edition
First Press versions are offered on all four editions that add a bonus photo and ticket for special event (planned).
The girls will hold a hand-shake event on June 10th to commemorate the release of the new single. Tickets for the event are by lottery – more info at http://chara-ani.com/
Track list and jacket covers are officially announced yet so check back to Comtrya Sugoi for updates.
Watarirouka Hashiritai 7 – "Shonen yo Uso wo Tsuke!" – release date May 30th 2012
Limited A [CD+DVD] (¥1600)


Limited B [CD+DVD] (¥1600)


[CD]
1. Shonen yo Uso wo Tsuke!
2. tba
[DVD]
1. Shonen yo Uso wo Tsuke! (music video)
2. Shonen yo Uso wo Tsuke! (off shoot A)
[CD]
1. Shonen yo Uso wo Tsuke!
2. tba
[DVD]
1. Shonen yo Uso wo Tsuke! (music video)
2. Shonen yo Uso wo Tsuke! (off shoot B)
Limited C [CD+DVD] (¥1600)


Regular [CD] (¥1000)


[CD]
1. Shonen yo Uso wo Tsuke!
2. tba
[DVD]
1. Shonen yo Uso wo Tsuke! (music video)
2. Shonen yo Uso wo Tsuke! (off shoot C)
[CD]
1. Shonen yo Uso wo Tsuke!
2. tba
Crayon Shin-chan official website