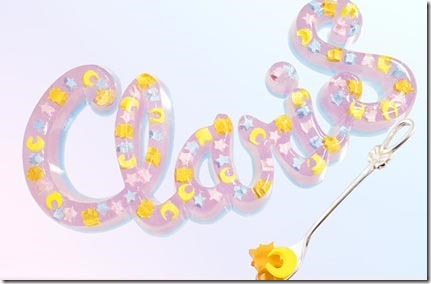 ClariS has add the jacket covers for their new single CLICK with tie-up as the opening theme for upcoming anime Nisekoi (Nisekoi: False Love). Their 9th single will be another collaboration with songwriter/composer kz (Livetune). Single CLICK comes on three editions scheduled for release on January 29th 2014 – details follow…
~ track list and simulcasting news updated ~
ClariS most recently released their 8th single Colorful featured as the opening theme song for anime movie Puella Magi Madoka Magica Rebellion. The single also includes coupling track Surely with tie-up for anime Bakemonogatari themed pachinko-slot game. Single Colorful hit stores October 30th 2013 and fans pushed it to #3 on the weekly Oricon charts.
To bring in the new year ClariS previously announced a live event, ClariS Presents 2014 New Year's Festival Hajimari no Yohan…., planned for January 5th 2014 4:00pm at Zepp Tokyo. The high school duo has never performed live that we know of and has never even published any photos. Unknown what this event will have for performances – more details and ticketing available at their official website (link below).
Anime Nisekoi (Nisekoi: False Love) is adapted from manga by Naoshi Komi and is a comedy romance that follows high school student Raku Ichijou, son of area crime-boss, and Chitoge Kirisaki daughter of a rival crime-boss. The two first meet when Chitoge, a new transfer student, accidently knees Raku in the face and causes Raku's precious pendent from childhood friend Kosaki Onodera to be lost. Other clashes lead to Chitoge and Raku developing a strong dislike for each other. But their father's have other ideas and coerce them into a fake relationship as the crime-bosses attempt to limit hostilities between their battling organizations.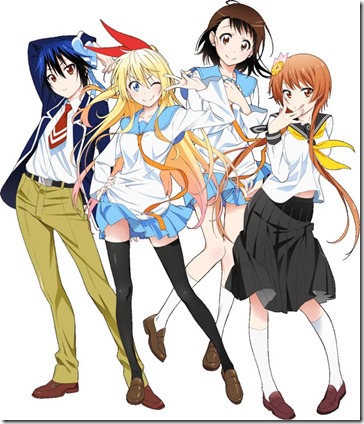 Kana Hanazawa stars as Kosaki, Kouki Uchiyama as Raku, and Nao Toyama as Chitoge. Anime Nisekoi begins airing in Japan on January 11th 2014 on MBS and Tokyo MX. Availability outside of Japan no announcements yet.
New single CLICK comes on three editions (details subject to change),
– Limited with DVD that's planned to include music video for title track.
– Limited Pressing anime themed CD-only with illustrated jacket cover. (available through April 2014)
– Regular CD-only.
Full track list and possible bonuses will be announced, come back to Comtrya Sugoi for updates.
ClariS – CLICK – release date January 29th 2014
Limited [CD+DVD] (¥1575)

Limited Pressing [CD] (¥1300)

[CD]
1. CLICK
2. undecided
3. undecided
4. undecided
[DVD]
1. CLICK (music video)
[CD]
1. CLICK
2. undecided
3. undecided
4. undecided
Regular [CD] (¥1223)

 
[CD]
1. CLICK
2. undecided
3. undecided
4. undecided