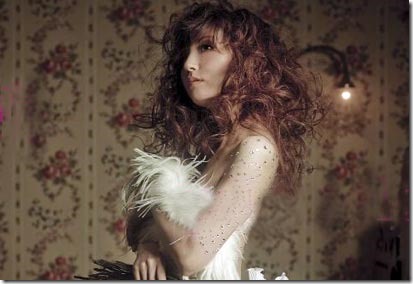 Faylan is preparing her 3rd album "PRISM" for release and has recently revealed the cover jackets, full track list, and preview video for new song "prism flower". The album includes several singles, new songs in collaboration with Elements Garden, and more for 13 total tracks. Album "PRISM" comes on one CD-only edition and hits stores March 20th 2013. Read on for more details and preview video.
Singer/songwriter Faylan recently dropped her 14th single "God FATE" which is featured as the opening theme for anime TV series Hakkenden: Toho Hakken Ibun. As with many of her singles Faylan wrote the lyrics for the title track and coupling tracks. Single "God FATE" hit stores back on January 23rd. More details reported here. Her newest single "God FATE" is not included on the album.
Faylan has provided anime or game theme songs with her singles released on the Lantis label. Most recently "Realization" (Aug 8th) featured as opening theme for anime Hagure Yusha no Estetica (Estetica) and "WHITE justice" (May 23rd) featured as ending theme for anime Mobile Suit Gundam AGE (release details). Faylan has written the lyrics for most all her songs and collaborated often with Noriyasu Agematsu (Elements Garden) for song composition and arrangement.
Faylan will hold a mini-tour "LIVE TOUR 04 -PRISM-" for the new album,
– June 22nd 5:30pm ell.FITS ALL Nagoya
– June 23rd 5:00pm AKASO Umeda
– June 29th 5:00pm BLAZE Shinjuku
Also announced are several launch events mini-live and handshake. Viewing is free for mini-live and handshake/autograph participation ticket given when reserving the single at indicated store,
– March 20th 5:00pm Toyosu LaLaport Tokyo (HMV)
– March 24th 12:30pm Sky Mall Carrier Circle Court Abeno (HMV)
– March 24th 5:30pm Taiko #2 Nagoya (autograph session, handshake only) (Animate)
Faylan's 3rd album "PRISM" (originally with tentative title "STORY") comes on one Regular CD-only edition. First Press version adds bonus 3-way case and tour guide flyer.
Enjoy the preview video for title track "prism flower" below the release details…
Faylan – "PRISM" – release date March 20th 2013
Regular [CD] (¥3000)


[CD]  (tentative)
1. prism flower
2. Blood teller
3. Soukyuu no hikari
4. RED love
5. crime of love
6. WHITE justice
7. HAPPY END
8. moment
9. Sousei no Thanatos
10. Realization
11. Dead END
12. RED decision
13. promise you…