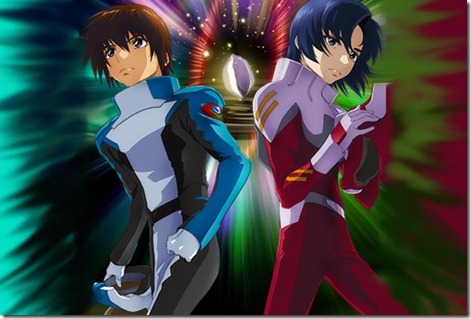 Mobile Suit Gundam SEED is being re-released in a remastered HD, 16:9 format box set on region-free Blu-ray and with English subtitles. The box set comes on 3 Blu-ray disks and features remixed music and remastered uncut scenes. The 4th box set includes episodes 39 – 50 + OVA episode 51 and its scheduled for release on December 21st – read on for more details and pre-order links.
The first Mobile Suit Gundam SEED box set of episodes 1-12 released March 23th, the second box set of episodes 13-25 released June 22nd, and the 3rd box set with episodes 27-38 released September 21st. More details on the first two box sets are reported here.
The 4th Mobile Suit Gundam SEED remastered box set comes on 3 Blu-ray disks, region free with English subtitles,
– Limited with special box jacket illustrated by series character designer Hisashi Hirai and mech designer Satoshi Shigeta, a 52p booklet with 100+ illustrations, and special BD features, more audio commentaries, music video (Director's Concept), and extra bonus footage.
– Regular with 16p booklet.
Both editions include Blu-ray features audio commentary track by the anime staff and cast plus textless animation of opening theme "Realize" by Nami Tamaki and ending theme "FIND THE WAY" by Mika Nakashima.
Mobile Suit Gundam SEED remastered Blu-ray box set #4 – release date December 21st 2012
Box Set 4 Limited [BD] (¥21000)



Box Set 4 Regular [BD] (¥18000)



[BD]

PHASE 39
PHASE 40
PHASE 40 (non-televised version)
PHASE 41
PHASE 42
PHASE 43
PHASE 44
PHASE 45
PHASE 46
PHASE 47
PHASE 48
PHASE 49
FINAL PHASE 50
After Phase – Between the Starts 51

[BD]

PHASE 39
PHASE 40
PHASE 40 (non-televised version)
PHASE 41
PHASE 42
PHASE 43
PHASE 44
PHASE 45
PHASE 46
PHASE 47
PHASE 48
PHASE 49
FINAL PHASE 50
After Phase – Between the Starts 51