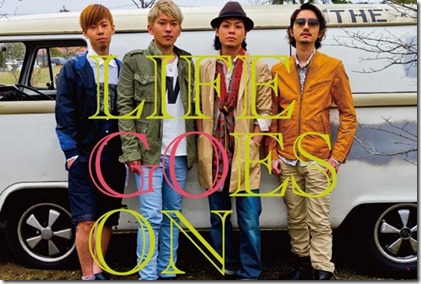 Hi-Fi CAMP has announced their final album "LIFE GOES ON" and final national tour culminating in a performance in the band's home town of Sendai. The album features two songs with tie-ins and comes on two editions though the Premium edition has limited availability. Album "LIFE GOES ON" is scheduled to hit stores May 22nd 2013 – read on for more details.
On March 20th 2013 Hi-Fi CAMP announced that vocalist SOYA had decided to leave the band and after much thought the remaining members felt the band couldn't continue and announced their breakup. The band is going out in style with their final album and a national tour hitting 7 venues plus a final performance in their home town June 4th 2013 that marks their 5th anniversary,
Hi-Fi CAMP 5th Anniversary Eve Tour 2013  
– May 3rd 4:00pm darwin, Sendai
– May 5th 4:00pm COLONY, Sapporo
– May 11th 4:00pm DRUM Be-1, Fukuoka
– May 12th 4:00pm cave-be, Hiroshima
– May 18th 4:00pm Club Quattro, Umeda
– May 19th 4:00pm Club Quattro, Nagoya
– May 25th 4:00pm Shibuya O-EAST, Tokyo
Hi-Fi CAMP FINAL LIVE
– June 4th 6:00pm darwin, Sendai (early reservation for fan club members)
Hi-Fi CAMP provided many songs with tie-ins including their final two singles – "Kono te Nobashite" (2011, 11th single) and "Boys be Ambitious!!" (2012, 12th single) – both featured as ending themes for anime Fairy Tail.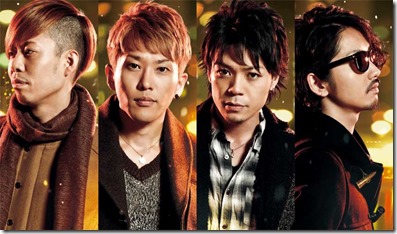 Album "LIFE GOES ON" has lead track "1.2.3STEP" (audio preview below) is featured as the theme song for TBS TV series "S☆1" and track "Yume Yori wo Daijinamono" has tie-up a CM song for JRA Fukushima Racecourse.
Their final album comes on two editions but the Premium edition is only available at the Hi-Fi CAMP live performances during their 5th Anniversary Eve Tour 2013 or until May 13th 2013 via the Pony Canyon shopping club,
– Premium (limited distribution) with bonus DVD that includes live performance footage from the band's performance at Shibuya O-EAST August 10th 2012. Includes set of 5 postcards. More details at special website (link below).
– Regular CD-only.
Hi-Fi CAMP – "LIFE GOES ON" – release date May 22nd 2013
Regular [CD] (¥2500)


Premium [CD+DVD] (¥4200)

[CD]
1. 1.2.3STEP
(preview)
2. I am your HERO
3. You & Me
4. Wonderful World
5. Yume Yori wo Daijinamono
6. Koi no Hana
7. YELL TO YOU
8. STAR☆TRAIN
9. one story
10. Koiwazurai
11. Day By Day
[CD]
1. 1.2.3STEP
2. I am your HERO
3. You & Me
4. Wonderful World
5. Yume Yori wo Daijinamono
6. Koi no Hana
7. YELL TO YOU
8. STAR☆TRAIN
9. one story
10. Koiwazurai
11. Day By Day
[DVD]
1. Live recording Shibuya O-EAST 2012.08.10
"LIFE GOES ON" special website