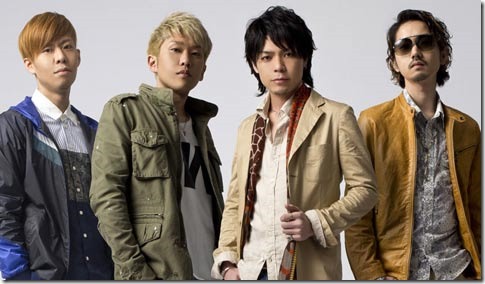 Hi-Fi CAMP is getting ready for their final release with best hits album "Ndene BEST" (んでねBEST). The main track list includes their 10 singles beginning with debut single "Kizuna" (2008), current album's featured new song "1.2.3STEP", and more for 14 total tracks. The Limited edition's second CD includes 14 more with b-side songs plus 3 previously unreleased tracks. The band's best hits album "Ndene BEST" hits stores July 3rd 2013 – read on for more details.
Hi-Fi CAMP most recently released their final original album "LIFE GOES ON" on May 22nd 2013. Unfortunately in conjunction with the album announcement on March 20th 2013 the band announced their breakup which was precipitated by vocalist SOYA's decision to leave the band.
They held a final national tour culminating in the band's home town of Sendai. The national tour hit 7 venues plus a final home-town performance on June 4th 2013 that marked their 5th anniversary,
Hi-Fi CAMP 5th Anniversary Eve Tour 2013
– May 3rd 4:00pm darwin, Sendai
– May 5th 4:00pm COLONY, Sapporo
– May 11th 4:00pm DRUM Be-1, Fukuoka
– May 12th 4:00pm cave-be, Hiroshima
– May 18th 4:00pm Club Quattro, Umeda
– May 19th 4:00pm Club Quattro, Nagoya
– May 25th 4:00pm Shibuya O-EAST, Tokyo
Hi-Fi CAMP FINAL LIVE
– June 4th 6:00pm darwin, Sendai
Hi-Fi CAMP provided many songs with tie-ins including their final two singles – "Kono te Nobashite" (2011, 9th single) and "Boys be Ambitious!!" (2012, 10th single) – both featured as ending themes for anime Fairy Tail and both includes on their best hits album.
Their greatest hits album comes on two editions,
– Limited with CD x 2 and DVD. The bonus CD includes mostly single b-side songs plus 3 previously unreleased. The DVD includes 9 previously released music videos.
– Regular CD-only.
Hi-Fi CAMP "Ndene BEST" (んでねBEST) – release date July 3rd 2013
Limited [CDx2 + DVD] (¥5250)


Regular [CD] (¥3150)


[CD1]
1. Kizuna
2. Koi
3. Turkestanica
4. Hitotsubu dai no Namida wa Kitto
5. Dakara Ippo mae he Fumidashite
6. Lost Love Song
7. Hitonigiri no Soro no Shita
8. Yume no Muko e
9. Kono te Nobashite
10. Kazoekirenai Kiss
11. Boys be Ambitious!
12. Hikari
13. Wonderful World
14. 1.2.3STEP
[CD2]
1. Summer D Live
2. Beautiful
3. Tomodachi no uta
4. Shiroi Hana
5. RadicalisM
6. Isshun no Omoi wo
7. you are My Only ~Groove Tongue Remix~
8. Haiiro ni Saku Hana
9. Dakara Ippo mae he Fumidashite ~remix~
10. HOME
11. SENDAISTA ~old river remix~
12. Carnation wo Soete (unreleased)
13. Best Friend Wedding (unreleased)
14. Dear… (unreleased)
[DVD] (music video)
1. Turkestanica
2. Hitotsubu dai no Namida wa Kitto
3. Dakara Ippo mae he Fumidashite
4. Lost Love Song
5. Hitonigiri no Soro no Shita
6. Yume no Muko
7. RIDE AWAY ~Yuki no Furu-gai Kara~
8. Kazo wo Kirenai Kiss
9. Wonderful World
[CD]
1. Kizuna
2. Koi
3. Turkestanica
4. Hitotsubu dai no Namida wa Kitto
5. Dakara Ippo mae he Fumidashite
6. Lost Love Song
7. Hitonigiri no Soro no Shita
8. Yume no Muko e
9. Kono te Nobashite
10. Kazoekirenai Kiss
11. Boys be Ambitious!
12. Hikari
13. Wonderful World
14. 1.2.3STEP