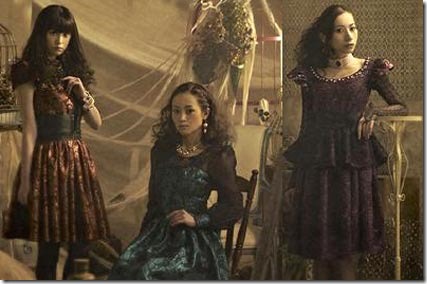 Kalafina has announced new single "Hallelujah" that will be featured as the theme song for the upcoming anime movie The Garden of Sinners recalled out summer (Kara no Kyoukai: Mirai Fukuin). It's the 8th theme song provided by Kalafina for the popular anime movie series. Single "Hallelujah" comes on two editions that release October 2nd 2013 – read on for more details and trailer for the movie…
~ updated details ~
Kalafina is closely tied to the Garden of Sinners anime movie series having originally formed to provide the first movie's theme song with their debut single "oblivious"(2008). The group's creator/producer Yuki Kajiura is responsible for providing all the music for the popular anime movie series. She formed the Kalafina trio from two members (Keiko, Wakana) of her other project FictionJunction along with new member Hikaru. Kalafina has since provided all 7 theme songs for the Garden of Sinners series and now the 8th with their 13th single "Hallelujah".
Also expect another single announcement from Kalafina as they are providing one of the theme songs (along with ClariS) for another highly anticipated upcoming anime movie Gekijo-ban Maho Shoujo Madoka ☆ Magika [Shinpen] Hangyaku no Monogatari (Madoka Magica the Movie: The Rebellion Story). The movie planned for October 26th 2013, is the 3rd theatrical release and an all new story with the first two released last year being condensed version of the 12 episode anime TV series.
The Garden of Sinners movie series is adapted from stories by Kinoko Nasu and originally ran 7 movies from 2007-2009.  The new movie The Garden of Sinners recalled out summer (Kara no Kyoukai: Mirai Fukuin) adapts the epilogue side story from Nasu. Story and concept creator Kinoko Nasu along with illustrator Takashi Takeuchi founded the popular game and media company Type-Moon. They are also created the popular Fate/stay night series.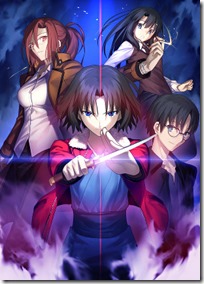 The 8th Garden of Sinners movie premieres in theaters in Japan September 28th 2013. More details at the official website (link below).
Fan can still see Kalafina live during their summer tour tied to their 4th original album "Consolation" (2013.03.20). The tour features major venues and smaller house venues. More details at special tour website (link below),
"Kalafina LIVE TOUR 2013 Consolation HALL ver."
– June 8th and 9th at Nakano Sun Plaza, Tokyo
– July 27th Toyama Shimin Kaikan, Takaoka
– August 3rd Grand Cube, Osaka
"Kalafina LIVE TOUR 2013 Consolation LIVE HOUSE ver."
– June 22nd and 23rd THE BOTOM LINE, Nagoya
– June 29th and 30th DRUM LOGOS, Fukuoka
– July 4th AKASAKA BLITZ, Tokyo
– July 13th Rensa, Sendai
– July 15th PENNY LANE24, Sapporo
– July 20th and 21st CLUB QUATTRO, Hiroshima
– July 28th LOTS, Niigata
New single "Hallelujah" comes on two editions,
– Limited Pressing anime themed with illustrated jacket cover, anime themed wide sticker, and special anime booklet.
– Regular CD-only.
Jacket covers, full tracklist, and more details will be updated when announced.
Watch the teaser trailer for the Garden of Sinners recalled out summer below the release details.
Kalafina "Hallelujah" – release date October 2nd 2013
Limited Pressing [CD] (¥1500)


Regular [CD] (¥1300)


[CD]
1. Hallelujah
2. Hallelujah (movie-size)
3. undecided
4. undecided
5. undecided
[CD]
1. Hallelujah
2. undecided
3. undecided
4. undecided
Kalafina LIVE TOUR 2013 Consolation
Garden of Sinners Official website