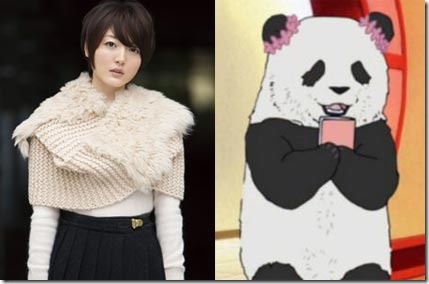 Voice actress and singer Kana Hanazawa singing as character Mei Mei will provide single "Bamboo Rendez-Vous" as the next ending theme for anime Polar Bear Café (Shirokuma Café). Kana Hanazawa voices the character Mei Mei (Panda's sister) in the ongoing comedy anime. The single "Bamboo Rendez-Vous" comes on two editions and is scheduled to be in stores March 13th 2013 – read on for more details and audio preview…
~ updated details ~
Kana Hanazawa (23) just released her 4th solo single "Silent Snow" on January 16th 2013 – more details are reported here. Single "Bamboo Rendez-Vous" won't count as a solo release from Kana Hanazawa as its tied to the anime character voice Mei Mei.
Her 3rd solo single "happy endings" that released October 24th 2012 was featured as the ending theme for anime Zetsuen no Tempest: The Civilization Blaster (Blast of Tempest). Hanazawa is also voicing character Aika Fuwa in the anime that continues this winter season. More details available here.
Kana Hanazawa has another busy season voicing characters in several continuing anime such as the fore mentioned Blast of Tempest and Polar Bear Café, plus From the New World and Magi – The Labyrinth of Magic.
Anime Polar Bear Café (Shirokuma Café) is adapted from comedy manga by Aloha Higa that follows the daily story of a café run by a polar bear and frequented by pandas, penguins, grizzly bears, other animals, and humans. The anime began airing April 2012 and is scheduled to end this spring 2013 after a run of approximately 50 episodes.
Polar Bear Café airs on TV Tokyo at 5:30pm Thursdays and is available outside of Japan on Crunchyroll. Check our Crunchyroll Updates page for all the latest streaming anime episodes or hit the link for Polar Bear Café for all the episodes and related stories.
New single "Bamboo Rendez-Vous" is airing now (episode 39 – ) as the anime's ending theme and is available on two editions,
– Limited with DVD that includes the creditless ending animation featuring the title song. First Press adds bonus "Shirokuma Café" (Polar Bear Café) goods.
– Regular CD-only
Cover jackets and possible additional bonuses will be announced to come back to Comtrya Sugoi for updates.
Kana Hanazawa "Bamboo Rendez-Vous" – release date March 13th 2013
Limited [CD+DVD] (¥1890)


Regular [CD] (¥1260)


[CD]
1. Bamboo Rendez-Vous
(preview)
2. Shirokuma Café? Mei mei?
3. Bamboo Rendez-Vous (off vocal)
4. Shirokuma Café? Mei mei? (off vocal)
[DVD]
1. Shirokuma Café (Polar Bear Café) creditless ending
[CD]
1. Bamboo Rendez-Vous
2. Shirokuma Café? Mei mei?
3. Bamboo Rendez-Vous (off vocal)
4. Shirokuma Café? Mei mei? (off vocal)
Polar Bear Café Official website