December 20, 2013
-
toyNN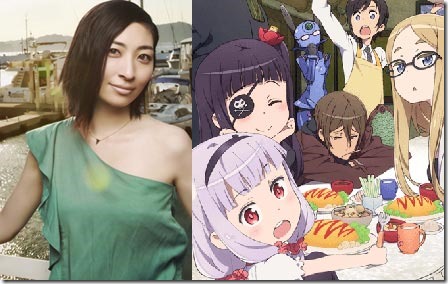 Maaya Sakamoto is providing the opening theme Be mine! for upcoming anime World Conquest Zvezda Plot (Seikai Seifuku ~ Boryaku no Zvezda) which now has been licensed by Aniplex USA and they've revealed an English subtitled trailer. The opening theme song comes on Maaya Sakamoto's 23rd single SAVED / Be mine! set for release on February 5th 2014 – read on for more details and the anime trailer that features OP Be mine!…
~ updated details, PVs revealed ~
Maaya Sakamoto's new double a-side single also features song SAVED, the ending theme for anime Inari KonKon Koi Iroha. Song Be mine! is provided and backed by popular rock group the band apart.
Anime World Conquest Zvezda Plot (Seikai Seifuku ~ Boryaku no Zvezda) is an original anime from A-1 Pictures (Tensai Okamura director, Meteo Hoshizora and Okamura scripts, Keigo Sasaki animation director). A secret society "Zvezda" has world conquest on their minds.
The anime begins airing in Japan January 11th 2014 on MBS TV, Tokyo MX, and other stations. With Aniplex USA licensing the anime, it will be streamed outside of Japan though specific providers not announced. Check the English website for more details (link below).
New single SAVED / Be mine! comes on four editions (2 pairs) with the Limited editions DVD including 6 live songs from Maaya Sakamoto's Roots of SSW tour performance at Shibuya Bunkamura April 25th 2013. All editions also include coupling track Koe with tie-up as the theme for Monster Hunter Frontier G (guess that makes this a triple tie-up single).
– Limited "SAVED" with DVD that includes 6 live songs. Adds illustrated Inari KonKon Koi Iroha themed extra jacket cover.
– Limited "Be mine!" with DVD. Includes illustrated World Conquest Zvezda Plot theme extra jacket cover.
– Regular "SAVED" CD-only.
– Regular "Be mine!" CD-only.
Watch the subtitled trailer for anime World Conquest Zvezda Plot below the release details.
Maaya Sakamoto – SAVED / Be mine! – release date February 5th 2014
Limited "SAVED" [CD+DVD] (¥1800)

Limited "Be mine!" [CD+DVD] (¥1800)

[CD]
1. SAVED
lyrics, composer: Suzuki Sachiko, arrangement: Yamamoto Ryuji

2. Be mine!
lyrics: Maaya Sakamoto, music: the band apart

3. Koe (Monster Hunter Frontier G theme song)
lyrics: Maaya Sakamoto, music: solaya

4. SAVED (off vocal)
5. Be mine! (off vocal)
6. Koe (off vocal)

[DVD] (live Roots of SSW)
1. Toku
2. Grapefruit
3. cloud9
4. park amsterdam(the whole story)
5. Scrap ~ Wakare no Uta
6. Singer Songwriter

[CD]
1. Be mine!
2. SAVED
3. Koe
4. Be mine! (off vocal)
5. SAVED (off vocal)
6. Koe (off vocal)

[DVD] (live Roots of SSW)
1. Toku
2. Grapefruit
3. cloud9
4. park amsterdam(the whole story)
5. Scrap ~ Wakare no Uta
6. Singer Songwriter

Regular "SAVED" [CD] (¥1300)

Regular "Be mine!" [CD] (¥1300)

[CD]
1. SAVED
2. Be mine!
3. Koe
4. SAVED (off vocal)
5. Be mine! (off vocal)
6. Koe (off vocal)
[CD]
1. Be mine!
2. SAVED
3. Koe
4. Be mine! (off vocal)
5. SAVED (off vocal)
6. Koe (off vocal)
Maaya Sakamoto Official website
World Conquest Zvezda Plot (English)
Sekai Seifuku ~ Boryaku no Zvezda (Japanese)