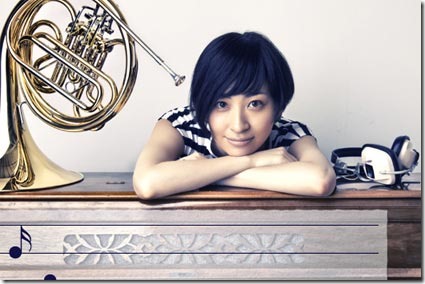 Maaya Sakamoto has revealed more details on her 8th album "Singer Songwriter" – full track list, cover jackets, and preview music video. Her new album includes eight new songs and two re-arranged songs for 10 total tracks. All included songs are written and produced by Maaya Sakamoto with arrangement handled by Shin Kono and Zentaro Watanbe. Album "Singer Songwriter" comes on two editions and hits stores March 27th 2013. Updated details, preview music video for new song "Nicola", and preview documentary footage follow.
To support the new album release Maaya Sakamoto has announced "LIVE TOUR 2013 ~ Roots of SSW" with six performances at three venues,
– March 30th & 31st 6:00pm/4:00pm International Convention Center Main Hall, Osaka
– April 19th & 20th 6:30pm/4:00pm Prefectural Art Theater Large Hall, Aichi
– April 24th & 25th 7:00pm/7:00pm Bunkamura Orchard Hall, Tokyo
Still active as a voice actress Maaya Sakamoto has been announced to voice the roll of Motoko Kusanagi in the new Ghost in the Shell: Arise (prequel) with part 1 due in theaters June 22nd 2013. She previously voiced the a young version Motoko Kusanagi in the original (1995) Ghost in the Shell movie and Ghost in the Shell: Stand Alone Complex OVA (2005). She also continues her role of Shinobu Oshino in anime Nekomonogatari (sequel Nisemonogatari & Bakemonogatari). She also recently voiced Makinami Mari Illustrious in anime movie Evangelion 3.0 You Can (not) Redo and Rikako Oryo in anime series Psycho-Pass.
Album "Singer Songwriter" is available on two editions that contain 8 new songs, a re-arranged version of song "everywhere" originally included only on her 15th anniversary album "everywhere" (2010), and a re-arranged version of "Chikai" originally included on concept album "Driving in the silence" (2011),
– Limited with DVD that includes music video for new song "Nicola" and documentary footage following Maaya Sakamoto in her song writing process. First Press bonus poster, booklet, and application flyer.
– Regular CD-only. First Press bonus application flyer.
The application flyer with serial number for special gift lottery (deadline March 31st),
– Special 1-man 1-song live for 1 person (3 total) invited to 1 of 3 live performances during the album's mini-tour (3/31 International Convention Hall Osaka, 4/20 Art Theater Hall Aichi, 4/24 Bunkamura Orchard Hall Tokyo). After the main live Maaya Sakamoto will play one song just for the lucky winner(s).
– 100 people hand written lyrics notebook for "Singer Songwriter".
Enjoy the preview video for track "Nicola" and preview of the documentary footage both below the release details.
Maaya Sakamoto – "Singer Songwriter" – release date March 27th 2013
Limited [CD+DVD] (¥3570)


Regular [CD] (¥2940)


[CD]
1. Tooku
2. Sunshine
3. everywhere (HAL remix) 
4. Nichola
5. Ask.
6. Naritai
7. Kaminari
8. Chikai (re-arranged)
9. Boku no hanbun
10. Singer Songwriter 
[DVD]
1. Documentary footage
2. Nichola (music video)
[CD]
1. Tooku
2. Sunshine
3. everywhere (HAL remix)
4. Nichola
5. Ask.
6. Naritai
7. Kaminari
8. Chikai (re-arranged)
9. Boku no hanbun
10. Singer Songwriter
Singer Songwriter Special website
Maaya Sakamoto Official website (FlyingDog)