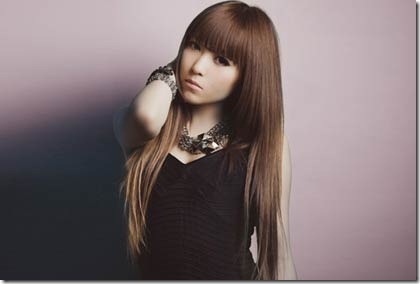 Maon Kurosaki has announced new album "VERTICAL HORIZON", her second original album. It will include her singles released in the 16 months since her first album "Butterfly Effect", new songs, and more for 13 planned tracks. The Limited edition of the album includes a Blu-ray with footage recorded at her second anniversary live event held at Shibuya-AX this past October. Album "VERTICAL HORIZON" is available on two editions and scheduled to be in stores April 10th 2013 – read on for more details…
~ updated details ~
The new album announcement came during Maon Kurosaki's performance at the Lisani LIVE-3 special live event at the venerable Nippon Budokan on January 26th & 27th. Maon Kurosaki performed on the events second day along with other anisong artists Eir Aoi, Kalafina, Mami Kawada, Sphere, Ayana Taketatsu, and Megumi Nakajima.
Her new album is planned to include songs previously released on singles,
– UNDER/SHAFT (opening theme anime Jormungand PERFECT ORDER, October 17th 2012)
– Reimei (Opening theme anime Hakuoki Reimeiroku, August 8th 2012)
– Toki no Kizuna (theme song PSP game Jyukki no Kizuna Sekigahara Kitan, July 18th 2012)
– Narihibiita kodo no naka de, boku wa shijima wo kiku (theme song live action movie Real Oni Gokko 3/4/5, May 9th 2012)
Album will also include new song announced November 9th 2012,
– Distrigger (theme song Kamigari Daemon Trigger iPhone/Android smartphone based RPG game from Busiroad).
Enjoy promotional video for the game featuring theme song "Distrigger" below the album release details.
Full track list hasn't yet been announced but is planned to include 8 more songs for 13 total tracks.
Album "VERTICAL HORIZON" comes on two editions,
– Limited with Blu-ray that includes performance and documentary footage recorded at the "Maon Kurosaki LIVE 2012 FALL ~ 2nd Anniversary ~" held October 14th 2012 Shibuya-AX, Tokyo. Includes "Kamigari Daemons Trigger" card with serial code.
– Regular CD-only. Includes "Kamigari Daemons Trigger" card with serial code.
To support her new album Maon Kurosaki has announced three live events "Maon Kurosaki LIVE TOUR 2013 'VERTICAL HORIZON'",
– April 20th 5:00pm THE BOTTOM LINE, Nagoya
– April 21st 5:00pm Osaka MUSE, Osaka
– April 28th 5:00pm Shibuya O-WEST, Tokyo
Release details are still early – the full track list and cover jackets will be announced so check back at Comtrya Sugoi for updates.
Maon Kurosaki – "VERTICAL HORIZON" – release date April 10th 2013
Limited [CD+BD] (¥3885)


Regular [CD] (¥3150)


[CD]
1. UNDER/SHAFT
2. Reimei 
3. Toki no Kizuna 
4.  Narihibiita kodo no naka de, boku wa shijima wo kiku 
5. Distrigger
6. – 13. undecided
[BD]
1. footage recorded at the "Maon Kurosaki LIVE 2012 FALL ~ 2nd Anniversary ~"
[CD]
1. UNDER/SHAFT
2. Reimei
3. Toki no Kizuna
4. Narihibiita kodo no naka de, boku wa shijima wo kiku
5. Distrigger
6. – 13. undecided
Kamigari Daemons Trigger Official website