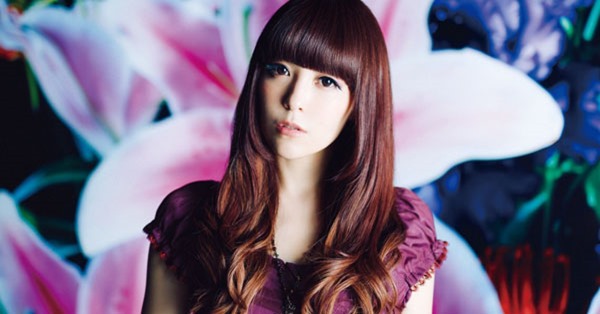 Maon Kurosaki (黒崎真音) is getting ready to release album Mystical Flowers and revealed the full track list and jacket covers. She write the lyrics for many of the songs on her 4th album that includes 15 total tracks. Album Mystical Flowers comes on two editions hitting stores on November 25th 2015.
In conjunction with the new album three live events LIVE TOUR 2016 Mystical Flowers are planned
– January 11th 2016 Akasaka BLITZ
– January 30th 2016 Umeda AKASO
– January 31st 2016 Nagoya SPADE BOX
The new album includes three singles (plus coupling tracks) and limited release songs all with tie-ups,
– 9th single Harmonize Clover (2015.08.19) and coupling track After Glow both used as ED for anime School-Live! (Gakkou Gurashi!).
– 8th single Setsuna no Kajitsu (刹那の果実) (2015.05.13) OP anime The Eden of Grisaia (Grisaia no Rakuen) and Red Alert Carpet.
– 7th single Rakuen no Tsubasa (楽園の翼) (2014.10.15) OP The Fruit of Grisaia and coupling track Scanning resolution theme for mobile game Maiden Craft.
– Sen no Homura theme PSP app Juu oni no kizuna hanamusubi tsudzuri (十鬼の絆 花結綴り).
Maon Kurosaki announced release events (mini-live, handshake, signing, photo – varies by location) for the new album – check store for participation requirements,
– Nov 25th 2015 6:30pm animate Ikebukuro
– Nov 27th 2015 6:30pm animate Yokohama
– Nov 28th 2015 1:30pm & 3:30pm Taiko 3rd Building (animate Nagoya)
– Nov 29th 2015 1:30am Tower Records Nagoya
– Nov 29th 2015 1:30pm Toranoana Nagoya
– Nov 30th 2015 6:30pm animate Shinjuku
– Dec 1st 2015 6:30pm Toranoana Akihabara
– Dec 5th 2015 2:00pm animate Hiroshima
– Dec 6th 2015 11:30am animate Okayama
– Dec 6th 2015 3:00pm, animate Tennoji
– Dec 12th 2015 11:30am Sofmap Akihabara
– Dec 12th 2015 3:30pm animate Machida
– Dec 19th 2015 12:00pm animate Kanazawa
– Dec 19th 2015 5:30pm animate Omiya
Album Mystical Flowers comes on two editions. Limited edition includes deluxe sleeve case with 32-page photo booklet. Blu-ray includes live performances captured at her January 11th 2015 Tour 2014-2015 WINGS OF EDEN GARNET!! at Akasaka BLITZ and February 28th 2015 ANIMAX MUSIX 2015 at Orix Theater Osaka. Both editions First Press include ticket application flyer for her upcoming LIVE TOUR 2016 Mystical Flowers.
Album song preview videos after the release details.
Maon Kurosaki – Mystical Flowers – release date November 25th 2015
Limited [CD+BD] (¥3611)


Regular [CD] (¥3000)


[CD]
1. LIMIT BREAK
lyrics: Maon Kurosaki, music: R.O.N. 

2. Rakuen no Tsubasa
lyrics: Kuwashima Yoshikazu, music: Fujima Hitoshi

3. The Nightmare Rock'n'Roll Show
lyrics: Maon Kurosaki/akane, music: y0c1e

4. Red Alert Carpet
lyrics: Maon Kurosaki/y0c1e, music: y0c1e

5. Scanning resolution
lyrics, composer: Watanabe Sho, arranger: Nakayama Masato

6. Candy Evolution
lyrics: Maon Kurosaki, music: R.O.N.

7. Harmonize Clover
lyrics: Maon Kurosaki, music: Cross Katsuhiko

8. Setsuna no Kajitsu
lyrics: Kuwashima Yoshikazu, music: Fujima Hitoshi

9. "lily"
lyrics: Maon Kurosaki, music: Dewa Yoshiaki

10. Shu (種)
lyrics, composer: Maon Kurosaki, arranger: Nagayama Hironao

11. Sen no Homura
lyrics: Maon Kurosaki, music: fu_mou

12. BRIGHT FUTURE
lyrics: Maon Kurosaki, music: Saito Shinya

13. X-encounter (remix: y0c1e)   
lyrics: Maon Kurosaki, music: Takase Kazuya  

14. After Glow        
lyrics: Maon Kurosaki, music: fu_mou

15. singing forever
lyrics: Maon Kurosaki/akane, music: fu_mou

[BD]        
– Maon Kurosaki Tour 2014-2015 WINGS OF EDEN GARNET!! at Akasaka BLITZ
– ANIMAX MUSIX 2015 at Orix Theater Osaka

[CD]
1. LIMIT BREAK
2. Rakuen no Tsubasa
3. The Nightmare Rock'n'Roll Show
4. Red Alert Carpet
5. Scanning resolution
6. Candy Evolution
7. Harmonize Clover
8. Setsuna no Kajitsu
9. "lily"
10. Shu (種)
11. Sen no Homura
12. BRIGHT FUTURE
13. X-encounter (remix: y0c1e)   
14. After Glow        
15. singing forever
LIMIT BREAK
Sen no Homura