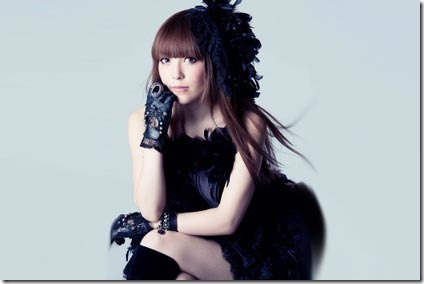 Maon Kurosaki updated the release details for single X-encounter featured as the opening theme for upcoming anime Tokyo Ravens. Full track list, jacket covers, and audio preview revealed. Her 6th single comes on three editions including Limited on Blu-ray or DVD that includes a 20 song live performance. Single X-encounter hits stores on November 6th 2013 – updated details and more follow…
~ preview music video added ~
Singer/songwriter Maon Kurosaki most recently released her second album VERTICAL HORIZON on April 10th 2013 (more details). The album contains her 5 previously released singles which include UNDER/SHAFT (2012.10.17, OP Jormungand PERFECT ORDER).
Maon Kurosaki debuted in 2010 on the Geneon label with album H.O.T.D that included 12 songs each of which was used as ending theme for episodes of anime Highschool of the Dead. All of her releases have tie-ins with anime, game, or movies and in-addition to performing the songs she writes most of the lyrics.
Anime Tokyo Ravens is adapted from light novels by Kohei Azano and follows the story of boy Harutora from a family of occult practitioners. However his occult skills are lacking and now is an just an ordinary high school student. Childhood friend Natsume and next head of the family reunites with Harutora and sets him on a course to change is destiny.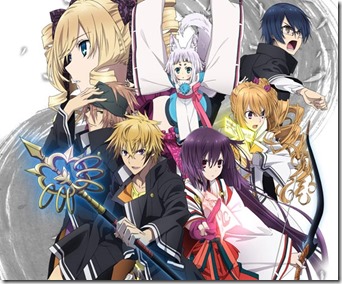 The anime stars Kana Hanazawa (Natsume), Aki Toyosaki, Eri Kitamura, and Kaito Ishikawa (15) (Gargantia; Ledo) in lead roll of Harutora. Anime Tokyo Ravens begins airing in Japan October 8th 2013. Outside of Japan for North America anime provider Funimation.com will carry the anime. Watch the preview trailer video below.
For her new single X-encounter, Maon Kurosaki will hold several release handshake meeting events tied to target store of purchase,
– Nov 6th 6:30pm Animate Ikebukuro (Shibuya, Shinjuku)
– Nov 8th 6:45pm Tsutaya Shibuya
– Nov 9th 12:30pm Sofmap Akiba
– Nov 9th 2:30pm Animate Akihabara
– Nov 10th 12:30pm Animate Nagoya
– Nov 10th 3:30pm Gamers Nagoya
– Nov 16th 5:00pm Tower Records Namba
– Nov 17th 12:30pm Gamers Hakata (Kokura)
– Nov 17th 2:30pm Animate Fukuoka Tenjin (Kokura)
Maon Kurosaki's new single X-encounter comes on three editions that share the same CD track list,
– Limited with Blu-ray that includes live performance (20 songs) from the final stop of the Maon Kurosaki Tour 2013 "VERTICAL HORIZON" at Shibuya O-East April 28th 2013, plus anime Tokyo Ravens textless opening animation and TV CM spots for the new single.
– Limited with DVD (contents similar to Blu-ray).
– Regular CD-only.
Selected stores offer bonus photo on all editions while supplies last, varies by target store (Animate, Toranoana, Sofmap, Tsutaya, and more)(samples),
Listen to the preview for X-encounter below and watch the trailer video for anime Tokyo Ravens below the release details. *Watch the preview music video for X-encounter added below.
Maon Kurosaki – X-encounter – release date November 6th 2013
Limited [CD+BD] (¥2625)


Limited [CD+DVD] (¥1890)


[CD]
1. X-encounter
lyrics: Maon Kurosaki, music: Kazuya Takase
(preview)

2. unchain.
lyrics: Maon Kurosaki, music: fu_mou

3. X-encounter (off vocal)
4. unchain. (off vocal)
[BD]
1. Maon Kurosaki Tour 2013 "VERTICAL HORIZON" (Shibuya O-East 2013.04.28) 
– UNDER / SHAFT
– VERTICAL HORIZON
  and more (20 songs)
2. Tokyo Ravens creditless opening animation
3. TV spot(s)

[CD]
1. X-encounter
2. unchain.
3. X-encounter (off vocal)
4. unchain. (off vocal)
[DVD]
1. Maon Kurosaki Tour 2013 "Vertical Horizon" (Shibuya O-East 2013.04.28)
– UNDER / SHAFT
– VERTICAL HORIZON
and more (20 songs)
2. Tokyo Ravens creditless opening animation
3. TV spot(s)
Regular [CD] (¥1260)


 
[CD]
1. X-encounter
2. unchain.
3. X-encounter (off vocal)
4. unchain. (off vocal)
 
Maon Kurosaki official website