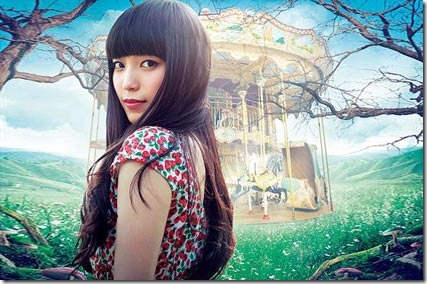 miwa is getting ready to release new single "Faraway / Kiss you" with second title track "Kiss you" featured as the opening theme for anime Silver Spoon. The double a-side single comes on three editions including an anime themed available for a limited time. Single "Faraway / Kiss you" hits stores September 4th 2013 – read on for more details and audio previews.
Singer / songwriter miwa (23) known for her skill with a guitar debuted with single "don't cry anymore" (2010.03.03) and in 2011 received 5 different new artist awards.
Anime Silver Spoon (Gin no Saji) is adapted from manga by Hiromu Arakawa (also responsible for award winning Fullmetal Alchemist). The story follows Yugo Hachiken as he starts school at Oezo Agricultural High School. Unlike the other students who seek an agricultural career Hachiken has enrolled to escape his stressful home and school environment in a less academically competitive high school. But he soon realizes the school has its own level of stress as he copes with the demands of a vocational agricultural school.
The anime began airing in Japan July 11th 2013 on the Fuji TV noitamina broadcast block. Anime Silver Spoon is available outside of Japan at hulu.com, aniplex Channel, and Crunchyroll.com. Check our Crunchyroll updates page for all the latest anime episodes or hit the link for Silver Spoon for links to episodes and related stories.
miwa's double-a side 12th single "Faraway / Kiss you" comes on three editions,
– Limited with DVD that includes music video and making-of footage for "Kiss you". Colored case.
– Limited Pressing anime themed available until September 30th 2013. Illustrated jacket cover and different track list order.
– Regular CD-only.
miwa – "Faraway / Kiss you" – release date September 4th 2013
Limited [CD+DVD] (¥1575)


Limited Pressing Anime [CD] (¥1300)


[CD]
1. Faraway
(preview)
2. Kiss you
(preview)
3. Delight <ballad version>
4. Faraway (off vocal)
5. Kiss you (off vocal)
[DVD]
1. Kiss you (music video)
2. Kiss you (off shoot)
[CD]
1. Kiss you
2. Faraway
3. Delight <ballad version>
4. Kiss you (off vocal)
5. Faraway (off vocal)
Regular [CD] (¥1223)


[CD]
1. Faraway
2. Kiss you
3. Delight <ballad version>
4. Faraway (off vocal)
5. Kiss you (off vocal)
miwa "Kiss you" PV YouTube (region blocked)