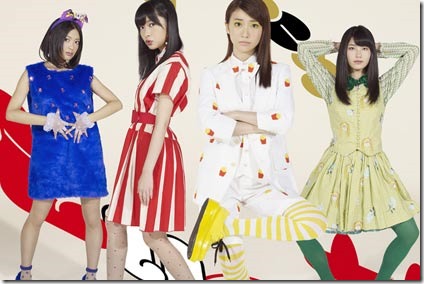 Not yet has announced new single "Hiri Hiri no Hana"! The Not yet unit features AKB48 key members Oshima Yuko, Sashihara Rino, Yokoyama Yui, and Kitahara Rie. It's been over a year since their 4th single "Suika BABY" released on May 30th 2012. Not yet's 5th single "Hiri Hiri no Hana" comes on four editions scheduled for release on September 25th 2013 – read on for all the details.
New single "Hiri Hiri no Hana" features main coupling track (included on all editions) "Tsugi no Pierce" with tie-in as CM theme song for Forex online Foreign Exchange trading. The CM videos featuring Oshima Yuko walking the streets of New York and Paris and were aired begin back in December 2012.
The single has another tie-in song included only on the single's Regular type-D edition – coupling track "Mienai sora wa itsu demo aoi" selected as the cheer-song for the final of Challenge U-CAN that featured Yokoyama Yui. The challenge followed Yokoyama Yui studying for a pharmacy technician/assistant certification starting November 2012 and results announced June 16th 2013 during an AKB hand-shake event.
Watch both CM videos for Forex and the final U-CAN video with the Yokoyama Yui getting her final exam results (skip to 4:08 for cheer-song).
New single "Hiri Hiri no Hana" comes on four editions that each feature a different second coupling track. All four editions offer a First Press version that include special event entry ticket and bonus content viewing ticket.
More details will be updated when announced.
Not Yet – "Hiri Hiri no Hana" – release date September 25th 2013
Limited A [CD+DVD] (¥1600)


Limited B [CD+DVD] (¥1600)


[CD]
1. Hiri Hiri no Hana
2. Tsugi no Pierce
3. Moshimo, Tewotsunaide Itara
4. Hiri Hiri no Hana (off vocal)
5. Tsugi no Peace (off vocal)
6. Moshimo, Tewotsunaide Itara (off vocal)
[DVD]
1. Hiri Hiri no Hana (music video)
[CD]
1. Hiri Hiri no Hana
2. Tsugi no Pierce
3. Bakuhatsu Professor
4. Hiri Hiri no Hana (off vocal)
5. Tsugi no Peace (off vocal)
6. Bakuhatsu Professor (off vocal)
[DVD]
1. Hiri Hiri no Hana (music video)
Limited C [CD+DVD] (¥1600)


Regular D [CD] (¥1000)


1. Hiri Hiri no Hana
2. Tsugi no Pierce
3. Sasayakana boku no teiko
4. Hiri Hiri no Hana (off vocal)
5. Tsugi no Peace (off vocal)
6. Sasayakana boku no teiko (off vocal)
[DVD]
1. Hiri Hiri no Hana (music video)
1. Hiri Hiri no Hana
2. Tsugi no Pierce
3. Mienai sora wa itsu demo aoi
4. Hiri Hiri no Hana (off vocal)
5. Tsugi no Peace (off vocal)
6. Mienai sora wa itsu demo aoi (off vocal)
Not yet Official website (Columbia Records Japan)
AKB Challenge U-CAN official website