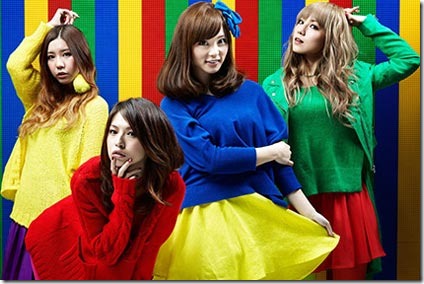 SCANDAL has announced their first single of 2013 – "Awanai tsumori no, genki dene" which is featured as the theme song for movie Ore wa Mada Honki Dashitenai Dake (I'll Give It My All…Tomorrow). The film co-stars idol Sashihara Rino of AKB48 & HKT48. Single "Awanai tsumori no, genki dene" is SCANDAL's 15th overall and scheduled for release May 22nd 2013 – read on for more details…
~ updated details ~
Most recently SCANDAL released a b-sides compilation album "Encore SHOW" on February 6th 2013. The album features the b-side tracks from many of their previously released singles including from single "Haruka" (2011.4) b-side track "Satisfaction" which has been featured in CM campaign in Japan for Windows 8 MSN. Also included on CD for the first time is track "PLAY BOY" and new song "Happy Collector" – Read here for more details.
Movie Ore wa Mada Honki Dashitenai Dake (I'll Give It My All…Tomorrow) is adapted from manga by Shunju Aono and follows the story of 41-year old Shizuo who decides to follow his dream of being a mangaka. Soon his family and friends become involved in his dream pursuit. The film is scheduled to premiere in Japan June 15th 2013. Enjoy the newest trailer below featuring Sashihara Rino discussing her roll of blunt manga editor Unami Aya.
SCANDAL's new single "Awanai tsumori no, genki dene" comes on three editions,
– Limited A with DVD that includes a drama video for title track. Bonus sticker illustrated by Shunju Aono.
– Limited B with DVD that includes footage at a pre-concert event for "Wonderful Tonight"  March 3rd 2013 at Osaka-Jo Hall. Bonus sticker illustrated by Shunju Aono.
– Regular CD-only. First Press adds sticker (1 of 5).
Cover jackets and more details will be announced so come back to Comtrya Sugoi for updates.
SCANDAL – "Awanai tsumori no, genki dene" – release date May 22nd 2013
Limited A [CD+DVD] (¥1500)


Limited B [CD+DVD] (¥1500)


[CD]
1. Awanai tsumori no, genki dene
2. 24-jikan plus no yoake mae
3. Awanai tsumori no, genki dene (off vocal)
[DVD]
1. Awanai tsumori no, genki dene (Drama video)
[CD]
1. Awanai tsumori no, genki dene
2. 24-jikan plus no yoake mae
3. Awanai tsumori no, genki dene (off vocal)
[DVD]
1. Footage from pre-concert event
Regular [CD] (¥1020)


 
[CD]
1. Awanai tsumori no, genki dene
2. 24-jikan plus no yoake mae
3. Awanai tsumori no, genki dene (off vocal)