AKB48 is getting ready to release new single Mae Shika Mukanee and revealed a preview music video plus all details. It's the last single with center Oshima Yuko (25) who is set to graduate at the end of March at special Oshima Yuko Kanashasi concert. Their 35th single comes on 3-pairs of editions with Limited versions adding a handshake event ticket. Single Mae Shika Mukanee hits stores February 26th 2014 – read on for full details and PV.
During the NHK 2013 New Years Eve singing event Kouhaku uta Gassen, Oshima Yuko (25) made her graduation announcement. After 110 AKB48 group members sang their 32nd single Koisuru Fortune Cookie, Oshima took the mic as the rest of the members prepared to sing their popular 17th single Heavy Rotation and said to the those in attendance and the national broadcast,
"Thank you for all your support in 2013. At this moment there is something I want to say. I, Oshima Yuko will graduate from AKB48."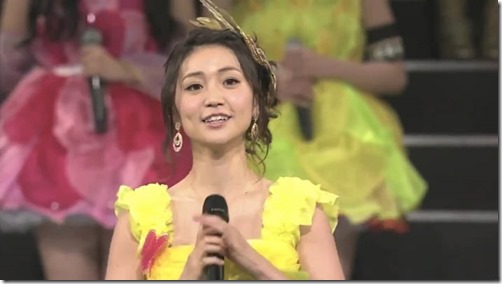 Oshima Yuko is an original Team K member joining the group with the second round of auditions in 2006. She will continue to pursue a career as an actress. Video of the sudden and quick announcement follows below the single release details.
Single Mae Shika Mukanee comes on 3-pairs of editions with different 2nd coupling track and DVD. The Limited editions include the handshake event ticket,
– Limited / Regular A with DVD that includes bonus Nakamura Mariko track. Coupling track by unit Beauty Giraffes.
– Limited / Regular B with DVD containing bonus Rina Hirata London report. Coupling track by unit Baby Elephants.
– Limited / Regular C with DVD containing bonus Ten to Umu Chu! in Hawaii footage. Coupling track by unit Talking Chimpanzees.
All editions add a bonus photo (varies by edition and store) while supplies last. Preview music video for Mae Shika Mukanee follows after the release details.
AKB48 – Mae Shika Mukanee – release date February 26th 2014
Limited A [CD+DVD] (¥1600)


Regular A [CD+DVD] (¥1600)


[CD]
1. Mae Shika Mukanee
2. Kino Yori Motto Suki (Smiling Lions)
3. Kimi no Uso wo Shitteita (Beauty Giraffes)
1. Mae Shika Mukanee (off vocal)
2. Kino Yori Motto Suki (off vocal)
3. Kimi no Uso wo Shitteita (off vocal)
[DVD]
1. Mae Shika Mukanee (music video)
2. Mae Shika Mukanee (dance ver.)
3. Kino Yori Motto Suki (music video)
4. Kimi no Uso wo Shitteita (music video)
5. Mariko Nakamura channel
 
Limited B [CD+DVD] (¥1600)


Regular B [CD+DVD] (¥1600)


[CD]
1. Mae Shika Mukanee
2. Kino Yori Motto Suki (Smiling Lions)
3. Himitsu no Diary (Baby Elephants)
1. Mae Shika Mukanee (off vocal)
2. Kino Yori Motto Suki (off vocal)
3. Himitsu no Diary (off vocal)
[DVD]
1. Mae Shika Mukanee (music video)
2. Mae Shika Mukanee (dance ver.)
3. Kino Yori Motto Suki (music video)
4. Himitsu no Diary (music video)
5. Rina Hirata London report
 
Limited C [CD+DVD] (¥1600)


Regular C [CD+DVD] (¥1600)


[CD]
1. Mae Shika Mukanee
2. Kino Yori Motto Suki (Smiling Lions)
3. KONJO (Talking Chimpanzees)
1. Mae Shika Mukanee (off vocal)
2. Kino Yori Motto Suki (off vocal)
3. KONJO (off vocal)
[DVD]
1. Mae Shika Mukanee (music video)
2. Mae Shika Mukanee (dance ver.)
3. Kino Yori Motto Suki (music video)
4. KONJO (music video)
5. Ten to Umu Chu! in Hawaii