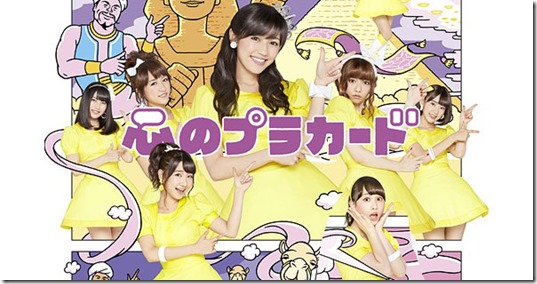 AKB48 updated the release details for single Kokoro no Placard – jacket covers, full track list, and preview music video unveiled. The single features members selected by the fan voting 6th Senbatsu Sousenkyo (General Election) with Watanabe Mayu (20) selected #1 for the first time. Single Kokoro no Placard hits stores August 27th 2014 – details and PV follow.
Their 36th single Labrador Retriever (2014.05.21) included the voting card for the 6th Senbatsu Sousenkyo. The top 80 members (of 296 members eligible) by votes participate on the 37th single,
Senbatsu (1-16) – Under Girls (17-32) – Next Girls (33-48) – Future Girls (49-64) – Coming-up Girls (65-80)
The senbatsu members selected for the title song Kokoro no Placard and who also get the majority of promotional press coverage,
1. Watanabe Mayu (159,854 votes)
2. Sashihara Rino (141,954)
3. Kashiwagi Yuki (104,364)
4. Matsui Jurina (90,910)
5. Matsui Rena (69,790)
6. Yamamoto Sayaka 
7. Shimazaki Haruka
8. Kojima Haruna
9. Minami Takahashi
10. Suda Akari
11. Miyawaki Sakura
12. Miyazawa Sae
13. Yokoyama Yui
14. Ikoma Rina
15. Shibata Ami
16. Kawaei Rina 
Single Kokoro no Placard comes on 4 pairs of editions plus a theater CD-only version. The Limited editions include handshake event ticket. All editions include member photo randomly selected.
Preview music video after the release details.
AKB48 – Kokoro no Placard (心のプラカード) – release date August 27th 2014
Limited A [CD+DVD] (¥1524)


Regular A [CD+DVD] (¥1524)


[CD]
1. Kokoro no Placard
2. Darekaga Nageta Ball (Under Girls)
3. Hito Natsu no Hankoki (Next Girls)
4. Kokoro no Placard (short ver)
5. Kokoro no Placard (off vocal)
6. Darekaga Nageta Ball (off vocal)
7. Hito Natsu no Hankoki (off vocal)
[DVD]
1. Kokoro no Placard (music video)
2. Kokoro no Placard (type A version)
3. Darekaga Nageta Ball (music video)
4. Hito Natsu no Hankoki (music video)
[CD]
1. Kokoro no Placard
2. Darekaga Nageta Ball
3. Hito Natsu no Hankoki
4. Kokoro no Placard (short ver)
5. Kokoro no Placard (off vocal)
6. Darekaga Nageta Ball (off vocal)
7. Hito Natsu no Hankoki (off vocal)
[DVD]
1. Kokoro no Placard (music video)
2. Kokoro no Placard (type A version)
3. Darekaga Nageta Ball (music video)
4. Hito Natsu no Hankoki (music video)
Limited B [CD+DVD] (¥1524)


Regular B [CD+DVD] (¥1524)


[CD]
1. Kokoro no Placard
2. Darekaga Nageta Ball
3. Seikaku ga Warui on Nanoko (Future Girls)
4. Kokoro no Placard (short ver)
5. Kokoro no Placard (off vocal)
6. Darekaga Nageta Ball (off vocal)
7. Seikaku ga Warui on Nanoko (off vocal)
[DVD]
1. Kokoro no Placard (music video)
2. Kokoro no Placard (type B version)
3. Darekaga Nageta Ball (music video)
4. Seikaku ga Warui on Nanoko (music video)
[CD]
1. Kokoro no Placard
2. Darekaga Nageta Ball
3. Seikaku ga Warui on Nanoko
4. Kokoro no Placard (short ver)
5. Kokoro no Placard (off vocal)
6. Darekaga Nageta Ball (off vocal)
7. Seikaku ga Warui on Nanoko (off vocal)
[DVD]
1. Kokoro no Placard (music video)
2. Kokoro no Placard (type B version)
3. Darekaga Nageta Ball (music video)
4. Seikaku ga Warui on Nanoko (music video)
Limited C [CD+DVD] (¥1524)


Regular C [CD+DVD] (¥1524)


[CD]
1. Kokoro no Placard
2. Darekaga Nageta Ball
3. Chewing Gum no aji ga Nakunarumade (Coming-up Girls)
4. Kokoro no Placard (short ver)
5. Kokoro no Placard (off vocal)
6. Darekaga Nageta Ball (off vocal)
7. Chewing Gum no aji ga Nakunarumade (off vocal)
[DVD]
1. Kokoro no Placard (music video)
2. Kokoro no Placard (type C version)
3. Darekaga Nageta Ball (music video)
4. Chewing Gum no aji ga Nakunarumade (music video)
[CD]
1. Kokoro no Placard
2. Darekaga Nageta Ball
3. Chewing Gum no aji ga Nakunarumade
4. Kokoro no Placard (short ver)
5. Kokoro no Placard (off vocal)
6. Darekaga Nageta Ball (off vocal)
7. Chewing Gum no aji ga Nakunarumade (off vocal)
[DVD]
1. Kokoro no Placard (music video)
2. Kokoro no Placard (type C version)
3. Darekaga Nageta Ball (music video)
4. Chewing Gum no aji ga Nakunarumade (music video)
Limited D [CD+DVD] (¥1524)


Regular D [CD+DVD] (¥1524)


[CD]
1. Kokoro no Placard
2. Sailor Zombie (Milk Planet)
3. Oshiete Mommy
4. Kokoro no Placard (short ver)
5. Kokoro no Placard (off vocal)
6. Sailor Zombie (off vocal)
7. Oshiete Mommy (off vocal)
[DVD]
1. Kokoro no Placard (music video)
2. Kokoro no Placard (type B version)
3. Sailor Zombie (music video)
4. Oshiete Mommy (music video)
[CD]
1. Kokoro no Placard
2. Sailor Zombie (Milk Planet)
3. Oshiete Mommy
4. Kokoro no Placard (short ver)
5. Kokoro no Placard (off vocal)
6. Sailor Zombie (off vocal)
7. Oshiete Mommy (off vocal)
[DVD]
1. Kokoro no Placard (music video)
2. Kokoro no Placard (type B version)
3. Sailor Zombie (music video)
4. Oshiete Mommy (music video)