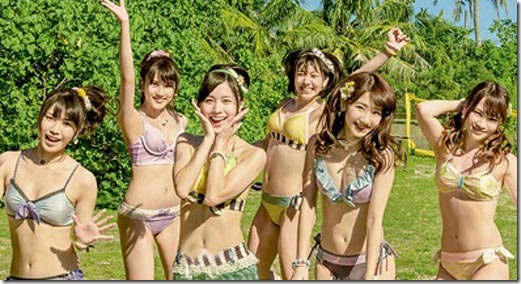 AKB48 has revealed more details for summer-themed single Labrador Retriever – jacket covers, full track list, and preview music video unveiled. Its their 36th single that includes voting card for the 6th General Election that determines the 37th single senbatsu. Single Labrador Retriever hits stores May 21st 2014 – updated details and preview music video follow.
The new single also includes Oshima Yuko's graduation song Kyou Made no Melody (今日までのメロディー) as the main coupling track. The included voting card for the 37th Senbatsu Sousenkyo scheduled for June 7th 2014 allows fans to vote for their favorite members and selects the participants for the 37th single.
The top 80 members by votes participate on the 37th single.
     – Senbatsu (1-16)
     – Under Girls (17-32)
     – Next Girls (33-48)
     – Future Girls (49-64)
     – Coming-up Girls (65-80)  (*new this year)
Twelve different ways to vote (mobile member, On Demand monthly member, smartphone app member, and more including the 36th single's voting card).
Most recently AKB48 released 35th single Mae Shika Mukanee on February 26th 2014. The single features center Oshima Yuko (25) who will graduate at the end of March and have final performances during their special stadium concerts on March 29th and 30th 2014. Unfortunately the final one on the 30th was canceled due to bad weather (reschedule pending). Video with Oshima Yuko addressing fans who gathered on the 30th follows below.
36th single Labrador Retriever comes on 4-pairs of editions plus a CD-only theater version with all including the main coupling track Kyou Made no Melody – Oshima Yuko's graduation song. Limited editions add handshake event ticket and all editions include the voting card for 37th Senbatsu Sousenkyo. Purchase photo bonus varies by store and while supplies last.
Preview music video for Labrador Retriever follows below
AKB48 – Labrador Retriever – release date May 21st 2014
Limited A [CD+DVD] (¥1524)

Regular A [CD+DVD] (¥1524)

[CD]
1. Labrador Retriever
2. Kyou Made no Melody (Oshima Yuko Graduation Song)
3. Kimi wa Kimagure (Team A)
4. Labrador Retriever (off vocal)
5. Kyou Made no Melody (off vocal)
6. Kimi wa Kimagure  (off vocal)
[DVD]
1. Labrador Retriever (music video)
2. Kyou Made no Melody (music video)
3. Kimi wa Kimagure (music video)
4. Nakamura "Kengai" Mariko no hosare men Kouza
[CD]
1. Labrador Retriever
2. Kyou Made no Melody 
3. Kimi wa Kimagure (Team A)
4. Labrador Retriever (off vocal)
5. Kyou Made no Melody (off vocal)
6. Kimi wa Kimagure (off vocal)
[DVD]
1. Labrador Retriever (music video)
2. Kyou Made no Melody (music video)
3. Kimi wa Kimagure (music video)
4. Nakamura "Kengai" Mariko no hosare men Kouza
Limited K [CD+DVD] (¥1524)

Regular K [CD+DVD] (¥1524)

[CD]
1. Labrador Retriever
2. Kyou Made no Melody (Oshima Yuko Graduation Song)
3. Itoshiki Rival (Team K)
4. Labrador Retriever (off vocal)
5. Kyou Made no Melody (off vocal)
6. Itoshiki Rival (off vocal)
[DVD]
1. Labrador Retriever (music video)
2. Kyou Made no Melody (music video)
3. Itoshiki Rival (music video)
4. Labrador Retriever (making-of documentary Pt1)
[CD]
1. Labrador Retriever
2. Kyou Made no Melody
3. Itoshiki Rival (Team K)
4. Labrador Retriever (off vocal)
5. Kyou Made no Melody (off vocal)
6. Itoshiki Rival (off vocal)
[DVD]
1. Labrador Retriever (music video)
2. Kyou Made no Melody (music video)
3. Itoshiki Rival (music video)
4. Labrador Retriever (making-of documentary Pt1)
Limited B [CD+DVD] (¥1524)

Regular B [CD+DVD] (¥1524)

[CD]
1. Labrador Retriever
2. Kyou Made no Melody (Oshima Yuko Graduation Song)
3. B Garden (Team B)
4. Labrador Retriever (off vocal)
5. Kyou Made no Melody (off vocal)
6. B Garden (off vocal)
[DVD]
1. Labrador Retriever (music video)
2. Kyou Made no Melody (music video)
3. B Garden (music video)
4. Labrador Retriever (making-of documentary Pt2)
[CD]
1. Labrador Retriever
2. Kyou Made no Melody 
3. B Garden (Team B)
4. Labrador Retriever (off vocal)
5. Kyou Made no Melody (off vocal)
6. B Garden (off vocal)
[DVD]
1. Labrador Retriever (music video)
2. Kyou Made no Melody (music video)
3. B Garden (music video)
4. Labrador Retriever (making-of documentary Pt2)
Limited 4 [CD+DVD] (¥1524)

Regular 4 [CD+DVD] (¥1524)

[CD]
1. Labrador Retriever
2. Kyou Made no Melody (Oshima Yuko Graduation Song)
3. Hato no Dasshutsu (Team 4)
4. Labrador Retriever (off vocal)
5. Kyou Made no Melody (off vocal)
6. Hato no Dasshutsu (off vocal)
[DVD]
1. Labrador Retriever (music video)
2. Kyou Made no Melody (music video)
3. Hato no Dasshutsu (music video)
4. Kizaki Yuri Team 4 music video report
[CD]
1. Labrador Retriever
2. Kyou Made no Melody
3. Hato no Dasshutsu (Team 4)
4. Labrador Retriever (off vocal)
5. Kyo Made no Melody (off vocal)
6. Hato no Dasshutsu (off vocal)
[DVD]
1. Labrador Retriever (music video)
2. Kyou Made no Melody (music video)
3. Hato no Dasshutsu (music video)
4. Kizaki Yuri Team 4 music video report