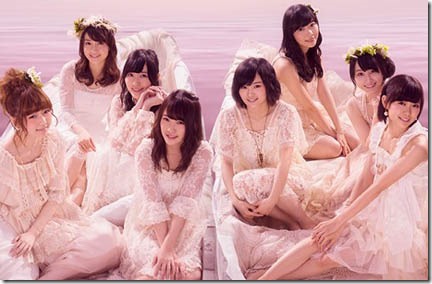 AKB48 is getting ready to release their 5th album Tsugi no Ashiato and recently unveiled the full track list and jacket covers. Album Tsugi no Ashiato comes on four editions set to hit stores January 22nd 2014. Also just announced during the December 31st 2013 64th Kouhaku uta Gassen AKB48 center and Team K captain Oshima Yuko will graduate from the group in 2014. Read on for more details on their 5th album and video of Oshima Yuko's graduation announcement.
During the NHK annual New Years Eve singing event Kouhaku uta Gassen, Oshima Yuko (25) made her graduation announcement. After 110 AKB48 group members sang their 32nd single Koisuru Fortune Cookie, Oshima took the mic as the rest of the members prepared to sing their popular 17th single Heavy Rotation and said to the those in attendance and the national broadcast,
"Thank you for all your support in 2013. At this moment there is something I want to say. I, Oshima Yuko will graduate from AKB48."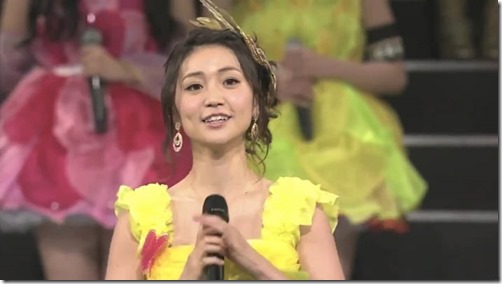 Oshima Yuko is an original Team K member joining the group with the second round of auditions in 2006. Video of the sudden and quick announcement follows below the album release details.
AKB48's 5th album Tsugi no Ashiato comes on four editions that all share the same main CD containing 7 singles and the 7 main coupling tracks,
– Limited A with bonus CD and DVD. The second CD contains 9 new songs and 2 coupling tracks. The DVD contains virtual hand-shake with first-person perspective handshake for 257 AKB group members. Approximately 90 minutes of footage recorded November 23rd, 24th, and December 1st 2013 during their national handshake events. Additional bonuses include deluxe packaging, 48-page photo booklet, photo.
– Regular A with bonus CD (same as Limited edition).
– Regular B with bonus CD with 9 new songs and 2 coupling tracks (differs from type A).
– Theater edition with main CD-only. Available at AKB48 theater and venues.
Most stores state additional bonus but details not yet announced.
AKB48 – Tsugi no Ashiato – release date January 22nd 2014
Limited A [2CD+DVD] (¥3400)


Regular A [2CD] (¥2700)


[CD]
1. Koisuru Fortune Cookie
2. LOVE Shugyou
3. Sayonara Crawl
4. Tsuyoi Hana
5. Ano Hi no Furin
6. Eien Pressure
7. Aozora Cafe
8. UZA
9. Kimi no Tame ni Boku wa
10. Watashitachi no Reason
11. So long !
12. Gingham Check
13. Manatsu no Sounds good! 
14. Otona e no MIchi
[CD2]
1. After rain

2. Gugutasu no Sora

3. Boy Hunt no Hoho Oshiemasu
Sashihara Rino, Shimazaki Haruka, Kizaki Yuria, Yagura Fuuko

4. JJ ni Okuritamono
Umeda Ayaka, Kitahara Rie, Asuka Kuramochi, Takahashi Minami, Takayanagi Akane, Yamada Nana

5. Shower no Ato Kara
Kashiwagi Yuki, Kojima Haruna, Matsui Rena

6. 10 Krone to Pan
Kodama Haruka, Fujie Reina, Yamamoto Sayaka, Yokoyama Yui

7. Kakushin ga Moterumono (Team A)

8. Team Zaka (Team 4)

9. Tsuyosa to Yowasa no Aida de (Original Team K)
Akimoto Sayaka, Umeda Ayaka, Oshima Yuko, Ohori Megumi, Kansai Tomomi, Kobayashi Kana, Noro Kayo, Masuda Yuka, Matsubara Natsumi, Miyazawa Sae 

10. Boku wa Ganbaru
Iriyama Anna, Oshima Yuko, Kashiwagi Yuki, Kawaei Rina, Kojima Haruna, Shimazaki Haruka, Yokoyama Yui, Watanabe Mayu

11. Eien Yori Tsuzuku You ni (OKL48)

[DVD]
1. AKB48 Virtual Handshake (257 members, 90min)

[CD]
1. Koisuru Fortune Cookie
2. LOVE Shugyou
3. Sayonara Crawl
4. Tsuyoi Hana
5. Ano Hi no Furin
6. Eien Pressure
7. Aozora Cafe
8. UZA
9. Kimi no Tame ni Boku wa
10. Watashitachi no Reason
11. So long !
12. Gingham Check
13. Manatsu no Sounds good! 
14. Otona e no MIchi
[CD2]
1. After rain
2. Gugutasu no Sora
3. Boy Hunt no Hoho Oshiemasu
4. JJ ni Okuritamono
5. Shower no Ato Kara
6. 10 Krone to Pan
7. Kakushin ga Moterumono (Team A)
8. Team Zaka (Team 4)
9. Tsuyosa to Yowasa no Aida de (Original Team K)
10. Boku wa Ganbaru
11. Eien Yori Tsuzuku You ni (OKL48)
Regular B [2CD] (¥2700)


Theater [CD] (¥2000)

[CD]
1. Koisuru Fortune Cookie
2. LOVE Shugyou
3. Sayonara Crawl
4. Tsuyoi Hana
5. Ano Hi no Furin
6. Eien Pressure
7. Aozora Cafe
8. UZA
9. Kimi no Tame ni Boku wa
10. Watashitachi no Reason
11. So long !
12. Gingham Check
13. Manatsu no Sounds good! 
14. Otona e no MIchi
[CD2]
1. Smile Kamigakushi (Tentoumu Chu!)

2. Tanin Gougi na Sunset beach
Ota Aika, Suda Akari, Yamauchi Suzuran, Watanabe Miyuki

3. Hasute to Wasute (BKA48)

4. Watashi Leaf
Iriyama Anna, Kato Rena, Kawaie Rina, Matsui Jurina

5. Stoic na Bigaku
Ichikawa Miori, Oba Mina, Kimoto Kanon, Miyawaki Sakura, Yabuki Nako, Yabushita Shu, Watanabe Mayu

6. Ponkotsu Blues

7. Ichi Ni no San
Oshima Yuko, Takajo Aki, Nagao Mariya, Furukawa Airi, Minegishi Minami

8. Kyouhansha (Team K)

9. Douki (Shimazaki Haruka solo)

10. Kanashiki Kinkyori Renai (Team B)

11. Yume no Kawa

[CD]
1. Koisuru Fortune Cookie
2. LOVE Shugyou
3. Sayonara Crawl
4. Tsuyoi Hana
5. Ano Hi no Furin
6. Eien Pressure
7. Aozora Cafe
8. UZA
9. Kimi no Tame ni Boku wa
10. Watashitachi no Reason
11. So long !
12. Gingham Check
13. Manatsu no Sounds good! 
14. Otona e no MIchi