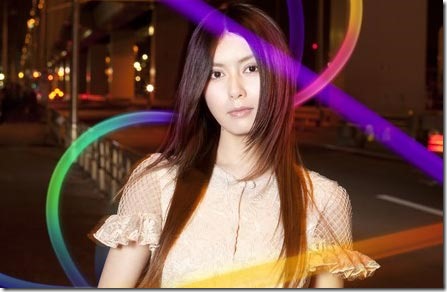 Annabel updated the release details for her 2nd album TALK. – full track list revealed. Previously the jacket covers and preview music video were unveiled. Her 2nd album includes singles Small WorlDrop and Alternative plus songs in collaboration with a wide range of artists and most feature lyrics written by Annabel. Album TALK hits stores March 26th 2014 – updated details and PV follows.
Singer and songwriter Annabel most recently released her 7th solo single Alternative on August 7th 2013. The title track is featured as the ending theme for the re-make of anime Rozen Maiden. Prevously she released 6th solo single Small WorlDrop (スモルワールドロップ)(2013.04.24) with tie-in as the opening theme for anime TV series RDG Red Data Girl.
Annabel also released independent single roof loop hopper on October 27th 2013.
A special release event for 2nd album TALK is planned for Tower Records in Shinjuku. The event will be a mini-live and handshake with participation ticket given to purchasers of the album at the target store (while supplies last).
– March 30th 2014 12:00pm Tower Records Shinjuku
Annabel has also announced a one-man live event in support of new album – TALK sync LINK – with ticket ordering information included in the album,
– June 6th 2014 6:30pm Shibuya duo MUSIC EXCHANGE
Annabel's 2nd album TALK comes on two editions,
– Limited with DVD planned to include music video for new song(s) and more. Information flyers.
– Regular CD-only. Information flyers.
Watch the preview music video for new song Konsen to Taiwa below the release details.
Annabel – TALK – release date March 26th 2014
Limited [CD+DVD] (¥3300)


Regular [CD] (¥3000)


[CD]
1. I.C
2. Konsen to Taiwa
3. Shihyou
4. sky needle
5. CLOUDY
6. Alternative
7. Kara no Naka
8. Ao ni Tokeru
9. Splinter Trip
10. Dream Reverse
11. Mikansei no Hoshi Juunin
12. Small WorlDrop
[DVD]
1. Kosen to Taiwa (music video)
[CD]
1. I.C
2. Konsen to Taiwa
3. Shihyou
4. sky needle
5. CLOUDY
6. Alternative
7. Kara no Naka
8. Ao ni Tokeru
9. Splinter Trip
10. Dream Reverse
11. Mikansei no Hoshi Juunin
12. Small WorlDrop