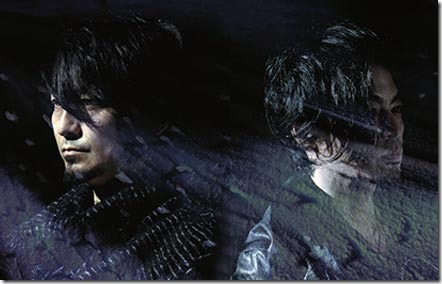 BOOM BOOM SATELLITES have revealed they will provide the opening theme BACK IN BLACK for anime project Ninja Slayer. A teaser promo for the anime with English was unveiled July 4th 2014 at Anime Expo. Group BOOM BOOM SATELLITES celebrated their 15th anniversary in 2012 and has provided anime theme songs for Mobile Suit Gundam UC Unicorn and Xam'd: Lost Memories. More details on the anime and PVs follow.
BOOM BOOM SATELLITES release 8th original album EMBRACE as the final part of their 15th anniversary celebration. The album includes single BROKEN MIRROR featured as the theme song for 5th chapter of the Mobile Suit Gundam UC OVA series. Album EMBRACE hit stores January 9th 2013 (more details).
The Ninja Slayer project has been given a ficticious backstory that it was originally written by American authors Bradley Bond and Philip Ninj@ Morzez and uncovered and translated by Japanese authors Honda Yu and Sugi Leika. The Japanese authors posted the story bit by bit via Twitter and the first Japanese light-novel volume was published in 2012.09. The story is set in a near-future cyberpunk Neo-Saitama where the souls of good and evil ninja are resurrected. When Fujikido Kenji's family is killed in a ninja battle he vows revenge. During training he becomes possessed by a righteous ninja soul, becoming the Ninja Slayer.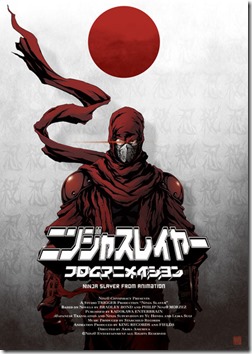 Studio Trigger (Kill la Kill) is in charge of production for the anime adaption that's set for release during 2015.
Promotional trailer for Ninja Slayer unveiled at Anime Expo 2014 with hint of new song BACK IN BLACK from BOOM BOOM SATELLITES follows along with an English dubbed promotional video for the English version of the first novel Ninja Slayer: Neo Saitama in Flames vol. 1.