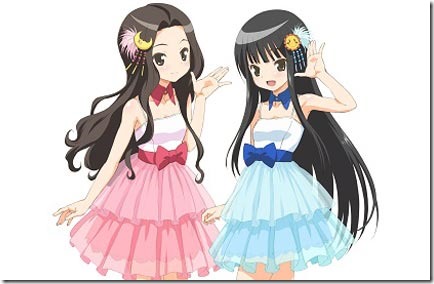 ClariS has announced new album PARTY TIME that includes singles Colorful, CLICK, and STEP plus 9 new song for 12 total tracks planned. Their 3rd album comes on three editions including a Limited with a pair of Nendoroid Petit reunion version figures. Album PARTY TIME releases June 4th 2014 – details follow…
~ jacket covers and more unveiled ~
High School duo ClariS are just about to release 10th single STEP on April 16th 2014 (more details). The single's title track has tie-up as OP2 for anime Nisekoi. Previously they provided the anime's first opening theme with their 9th single CLICK (2014.01.29)(more details). Also both are a collaboration with composer kz (Livetune).
Also included on new album PARTY TIME is 8th single Colorful (2013.10.30) featured as the opening theme song for anime movie Puella Magi Madoka Magica Rebellion.
New album PARTY TIME comes on three editions that share the same CD-track list (details subject to change). Special Limited edition includes ClariS figures Nendorid Petit reunion version,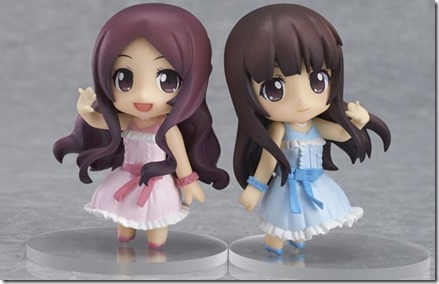 Jacket covers, full track list, and more will be announced, follow Comtrya Sugoi for updates.
ClariS – PARTY TIME – release date June 4th 2014
Limited A [CD+Goods] (¥4900)

Limited B [CD+DVD] (¥3500)

[CD]
1. Colorful
2. CLICK
3. STEP
4. – 12. undecided
[CD]
1. Colorful
2. CLICK
3. STEP
4. – 12. undecided
[DVD]
1. Colorful (music video)
2. CLICK (music video)
3. STEP (music video)
4. OP Oreimo season 2 (textless)
5. OP Puella Magi Madoka Magica Rebellion (textless)
6. OP Nisekoi (textless)
7. TVCM spots
Regular [CD] (¥2913)

[CD]
1. Colorful
2. CLICK
3. STEP
4. – 12. undecided