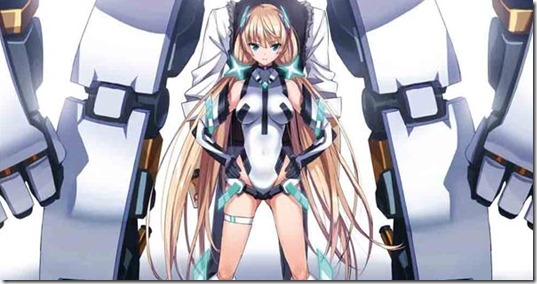 ELISA unveiled her new single EONIAN (イオニアン) with tie-up as the theme song for upcoming anime movie Rakuen Tsuiho – Expelled from Paradise (楽園追放). Her 13th single comes on two editions scheduled for release on November 12th 2014. Read on for more details on single EONIAN and anime Expelled from Paradise plus new trailer video.
~ updated details and PV revealed ~
Most recently ELISA released 4th original album AS LIFE on June 25th 2014 (more details). Previously she released 12th single Millenario (ミレナリオ) on April 30th 2014 with tie-up as the first ending theme for anime The irregular at magic high school (魔法科高校の劣等生).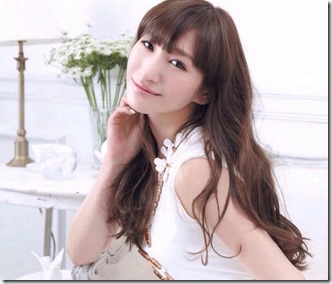 Singer and model ELISA returned from an 18 month hiatus from activities at the beginning of 2013 and on new record label (Sony Music Entertainment Japan (SMEj)).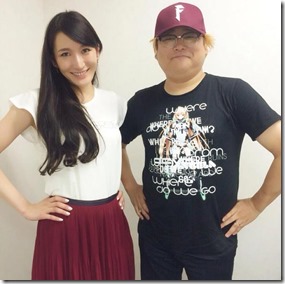 *image with ELISA x Mizushima Seiji (Expelled from Paradise Director)
Anime project Rakuen Tsuiho – Expelled from Paradise (楽園追放) from Toei Animation and Nitro+ with an original story by Gen Urobuchi (Puella Magi Madoka Magica) was first announced two and a half years ago. The futuristic story set in a ruined Earth where many have abandoned the ground and have become data living in a cyber world. A hacking incident in 2400 by someone identified as Frontier Setter takes cyber world investigator Angela Balzac to the physical world. Angela meets up with Zarik "Dingo" Kajiwara and they begin their investigation and pursuit of Frontier Setter.
The anime features Rie Kugimiya as Angela Balzac, Shinichiro Miki as Dingo, and Kamiya Hiroshi as Frontier Setter. The movie premieres in Japan November 15th 2014.
Single EONIAN comes on two editions (details subject to change). Limited edition available until February 11th 2015 and includes illustrated jacket cover by character designer Saito Masatsugu. Also includes ELISA message card "A" and application flyer. Regular First Press includes ELISA message card "B" and application flyer.
The included application flyer requires an entry ticket sticker that's included with the Blu-ray or DVD of the anime movie scheduled for release December 10th 2014. Entry deadline for awards lottery January 9th 2015,
– 100 winners illustrations by character designer Saito Masatsugu
– all applicants additional jacket cover
Newest trailer for movie Expelled from Paradise follows after the release details.
ELISA – EONIAN – release date November 12th 2014
Limited Anime [CD+DVD] (¥1389)


Regular [CD] (¥1204)


[CD]
1. EONIAN
2. undecided
3. undecided
4. undecided
[DVD]
1. EONIAN (music video)
[CD]
1. EONIAN
2. undecided
3. undecided
4. undecided
 
 
ELISA Special website (Sony Music)