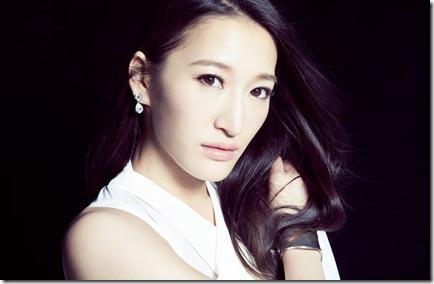 ELISA has announced new single Millenario (ミレナリオ) with tie-up as the ending theme for upcoming anime The Irregular at Magic High School (魔法科高校の劣等生). Its her 12th single and comes on three editions. Single Millenario is scheduled for release on April 30th 2014 – read on for more early details and anime trailer video featuring ED Millenario…
~ jacket covers and more revealed ~
Most recently ELISA released 11th single REALISM (2013.10.23) featured as the third ending theme for anime Valvrave the Liberator (Kakumeiki Valvrave). With her 10th single Soba ni Iruyo (2013.06.19) she provided the anime's second ending theme.
ELISA originally signed as a model with elite Model Management and debuted as a singer with euphoric field (2007) featured as the opening theme for anime Ef: A Tale of Memories. All of ELISA's singles have been used with anime or games as either opening or ending theme songs – 12 released under her name and two for anime The World God Only Knows released as Oratorio The World God Only Knows.
Anime The Irregular at Magic High School (Mahouka KouKou no Rettosei) is adapted from novels by Tsutomu Satou and follows the story brother and sister Tatsuya and Miyuki Shiba. They are the top incoming students at elite Magic High School and things are about to turn chaotic for them and their classmates.
The anime begins airing April 2014 on Tokyo MX in Japan. No announcements yet for availability outside of Japan but as an Aniplex production the anime should be available on at least one of the providers.
The anime's opening theme Rising Hope is provided by LiSA (more details).
Single Millenario comes on three editions (details subject to change),
– Limited with DVD containing music video for title track.
– Limited Pressing anime themed with illustrated jacket cover. Bonus CD track.
– Regular CD-only.
Preview trailer for The Irregular at Magic High School featuring ELISA's ending theme Millenario follows below the release details.
ELISA – Millenario – release date April 30th 2014
Limited [CD+DVD] (¥1500)

Limited Pressing anime [CD] (¥1400)

[CD]
1. Millenario
2. undecided
3. undecided
4. undecided
[DVD]
1. Millenario (music video)
[CD]
1. Millenario
2. undecided
3. undecided
4. undecided
5. undecided
Regular [CD] (¥1200)

 
[CD]
1. Millenario
2. undecided
3. undecided
4. undecided
 
ELISA Special website (Sony Music)