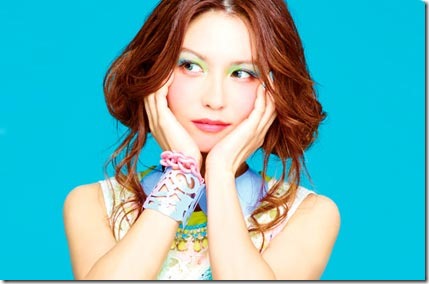 Faylan (飛蘭) is releasing a new album FAYvorite! containing song covers she previously has only performed during live events. The album includes classic anime themes Lupin Sansei no Theme (Pete Mack Jr., Lupin the 3rd 1978), DAYS (FLOW, OP Eureka Seven 2005), and more for 10 total tracks. Album FAYvorite! comes on one edition hitting stores March 26th 2014 – read on for more details.
Most recently Faylan released her 16th single BLUE BLAZE / BELIEVE with the main title track featured as opening theme anime BLAZBLUE ALTER MEMORY. Second title track BELIEVE also gets a tie-in as the theme song for Ragnarok Online: Ragnarok World Championship 2013. Single BLUE BLAZE / BELIEVE hit stores October 23th 2013 (more details).
Previously Faylan recently released her 15th single wonder fang (2013.07.24) with tie-up as the opening theme for the second season of anime TV series Hakkenden: Eight Dogs of the East. The single's coupling track Blue Sanction gets tie-up also as opening theme for PS3 game BLAZBLUE CHRONOPHANTASMA (more details).
Cover album FAYvorite! comes on one CD-only edition.
Faylan – FAYvorite! – release date March 26th 2014
Regular [CD] (¥3000)


[CD]
1. Lupin Sansei no Theme (Pete Mack Jr.)
2. DAYS (FLOW)
3. I LOVE YOU (Ozaki Yutaka)
4. FIND THE WAY (Mika Nakashima)
5. Natsu no Hi no 1993 (class)
6. Sekai ga owaru made ha… (WANDS)
7. Ai wo torimodose!! (Crystal King)
8. Kaede (Spitz)
9. Amazing Grace
10. Erotica Seven (Southern All Stars)