September 27, 2014
-
toyNN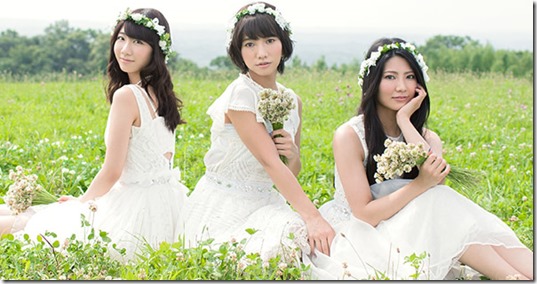 French Kiss revealed more details for their 6th single Omoidasenai Hana (思い出せない花) – jacket covers and preview music video unveiled. The single is featured as the theme song for drama SAVEPOINT staring unit member Takajo Aki. Its also featured as theme for the unit's travel variety series French Kiss no Kiss Tabi. Single Omoidasenai Hana comes on 4 editions scheduled for release on October 1st 2014 – more details and PV follow…
Track list details updated! Coupling songs feature lyrics writing by unit members and solo songs.
AKB48 sub-unit French Kiss includes Kashiwagi Yuki (23), Kuramochi Asuka (24), and Takajo Aki (22). They formed in 2010 and last released 5th single Romance Privacy over 2 years ago July 18th 2012.
TV Tokyo drama SAVEPOINT is a 4-episode police/detective drama staring Takajo Aki that aired June 5th – 26th 2014. During the first episode Takajo Aki cut her signature long hair short. 
Travel show French Kiss no Kiss Tabi (フレンチ・キスのキス旅) has the members traveling to countries such as Singapore, USA (Los Angeles), Canada (Vancouver), and more. The series started July 1st 2014 and continues weekly on TV Tokyo.
Single Omoidasenai Hana comes on 4 editions. Each edition's track list includes a different coupling track with types B, C, and D being a solo song by each member. Each included DVD has approximately 64 minutes of footage including a full episode of drama SAVEPOINT plus episodes and bonus footage from their travel show French Kiss no Kiss Tabi.
First Press editions include a trading card and event application card. Plus most stores add additional purchase bonus photo (varies by store). Simultaneous purchase of all 4 editions receive a slipcover box case to house all.
The included application card for premium live event October 22nd 2014 at Zepp Tokyo with 1000 fans selected by lottery to attend (submit by October 7th).
Preview music video after the release details.
French Kiss – Omoidasenai Hana (思い出せない花) – release date October 1st 2014
Limited A [CD+DVD] (¥1524)


Limited B [CD+DVD] (¥1524)


[CD]
1. Omoidasenai Hana
2. Amanajaku
lyrics & music: French Kiss

3. June 29th
lyrics & music: French Kiss

4. Omoidasenai Hana (off vocal)
5. Amanajaku (off vocal)
6. June 29th (off vocal)
[DVD]
1. Omoidasenai Hana (music video)
2. Making-of music video documentary
3. French Kiss no Kiss Tabi episode #1 Singapore
4. French Kiss no Kiss Tabi final episodes Hong Kong extra footage
3. SAVEPOINT episode 1

[CD]
1. Omoidasenai Hana
2. Amanajaku
3. 2-ri Dake no Kioku (Takagi Aki solo) 
lyrics: Takagi Aki

4. Omoidasenai Hana (off vocal)
5. Amanajaku (off vocal)
6. 2-ri Dake no Kioku (off vocal)
[DVD]
1. Omoidasenai Hana (music video)
2. Making-of music video documentary
3. French Kiss no Kiss Tabi episode #2 Singapore
4. French Kiss no Kiss Tabi Vancouver (Takagi Aki) extra footage
3. SAVEPOINT episode 2

Limited C [CD+DVD] (¥1524)


Limited D [CD+DVD] (¥1524)


[CD]
1. Omoidasenai Hana
2. Amanajaku
3. Hiroi Sekai no Naka de Deaeta Koto (Kashiwagi Yuki solo)
lyrics: Kashiwagi Yuki
 
4. Omoidasenai Hana (off vocal)
5. Amanajaku (off vocal)
6. Hiroi Sekai no Naka de Deaeta Koto  (off vocal)
[DVD]
1. Omoidasenai Hana (music video)
2. Making-of music video documentary
3. French Kiss no Kiss Tabi episode #3 Singapore
4. French Kiss no Kiss Tabi Hawaii (Kashiwagi Yuki) extra footage
5. SAVEPOINT episode 3
[CD]
1. Omoidasenai Hana
2. Amanajaku
3. Kokoro no Kagi (Kuramochi Asuka solo)
lyrics: Kuramochi Asuka
 
4. Omoidasenai Hana (off vocal)
5. Amanajaku (off vocal)
6. Kokoro no Kagi  (off vocal)
[DVD]
1. Omoidasenai Hana (music video)
2. Making-of music video documentary
3. French Kiss no Kiss Tabi episode #4 Singapore
4. French Kiss no Kiss Tabi Los Angeles (Kuramochi Asuka) extra footage
5. SAVEPOINT episode 4