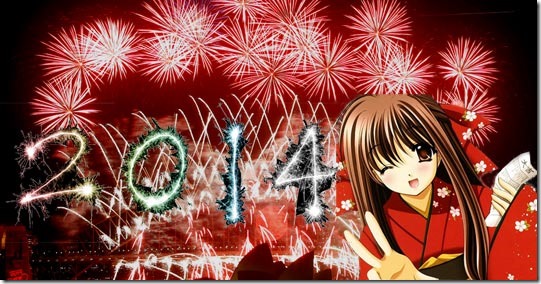 Akemashite Omedetou Gozaimasu! Looking forward to a excellent 2014 of jpop, kpop, anime, and more from all the best Japanese and Korean artists. 2013 was a great good year too, catch the year-end Oricon charts for singles and albums for the top 20 releases for last year. To start of 2014 watch the messages from Eir Aoi, SCANDAL, NMB48, and New Year's card from 9nine.
2014 is here and new releases start off January 8th with nano.RIPE's 3rd album Namida no Ochiru Sokudo and January 15th we get singles from Haruka Tomatsu and KANJANI8. Releases heat up on January 22nd when AKB48 drops their 5th album Tsugi no Ashiato along with the long awaited 2nd album from FictionJunction plus singles from Kana Hanazawa, FTISLAND, and Yuuka Nanri. A flood of releases hits on January 29th – Namie Amuro, Aoi Eir, May'n, The Sketchbook, Aoi Yuki, ClariS, Leo Ieiri, ZAQ, Ogura Yui, and more will fully launch us into 2014.
Many of the new releases on January have tie-ups with the winter 2014 anime season. We're looking forward to the second season of Love, Chunibyo & Other Delusions, new series: Inari KonKon Koi Iroha, Hozuki no Reitetsu, and No-Rin, plus the continuation of Strike the Blood and Log Horizon.
Space Dandy is another interesting anime – with Shinichiro Watanabe (Cowboy Bebop) directing and BONES producing plus an ambitious full English dub and on-air simulcast around the world…it really needs to be successful. Note that 9nine member Sataki Uki (left) joins a mostly veteran voice cast with her first regular voice acting roll as a main supporting character QT, a robot vacuum cleaner, on the highly anticipated anime.
New Year's postcard from 9nine and video messages from NMB48, Eir Aoi, and SCANDAL: