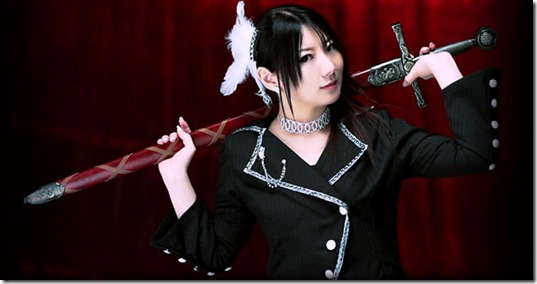 Hitomi Harada (原田ひとみ) announced her new single (untitled) with tie-up as the ending theme for upcoming anime Madan no O to Vanadis (魔弾の王と戦姫). Plus she voices supporting character Valentina in the action-fantasy anime. Her 8th single comes on two editions releasing November 26th 2014 – read on for more early details.
~ updated details – Schwarzer Bogen ~
Included on the new single as coupling track (untitled) is theme song for smartphone game Seirei Tsukai no Kenbu ~ DayDreamDuel ~.
Most recently singer and voice actor Hitomi Harada released 7th single Kyoumei no True Force (共鳴のTrue Force) on July 23rd 2014. The single has tie-up as then opening theme for anime BladeDance of Elementalers (Seirei Tsukai no BladeDance, 精霊使いの剣舞). Previously she released single Anicca (2013.11.06) featured as the opening theme for anime Unbreakable Machine-Doll plus she voices main character Yaga.
Along with many of the voice cast, Hitomi Harada will appear at the Madan no O to Vanadis sneak peak event September 20th 2014 at 3:30pm & 6:00pm at United Toyosu Cinema LaLaport. The event will have preview of the first two episodes, talk, and mini-live of opening and ending themes (more details at link below).
Anime Madan no O to Vanadis, adapted from light novel series by Kawaguchi Tsukasa, follows "Vanadis" – beautiful girls who ride into battle with weapons received from dragons. Seven territories are each ruled and protected by a Vandais. The story begins as a young noble from a neighboring kingdom named Tigrevurmund "Tigre" encounters Vanadis Eleonora. After being defeated in a fierce battle Tigre instead of being killed is taken prisoner.
Produced by Satelight, the anime features a strong voice cast with Haruka Tomatsu in the lead roll of Eleonora "Ellen" Viltaria and Ishikawa Kaito as Tigrevurmund. Supporting rolls include Yu Kobayashi (Elizavetta), Uesaka Sumire (Titta), and Hitomi Harada (Valentina). Broadcast begins October 4th 2014 on Tokyo MX and MBS TV in Japan.
The anime's opening theme is provided by Konomi Suzuki with 7th single Ginsen no Kaze (銀閃の風).
Hitomi Harada's 8th single comes on two editions (details subject to change). Limited and Regular editions include different coupling track. Full track list, jacket covers, and more details coming – follow Comtrya Sugoi for updates.
Hitomi Harada – 8th single (untitled) – release date November 26th 2014
Limited [CD+DVD] (¥1700)


Regular [CD] (¥1200)


[CD]
1. title song (ED Madan no O to Vanadis)
2. main coupling (theme Seirei Tsukai no Kenbu ~ DayDreamDuel ~ )
3. coupling A
4. title song (off vocal)
5. main coupling (off vocal)
[DVD]
1. title song (music video)
2. making-of music video documentary
[CD]
1. title song
2. main coupling 
3. coupling B
4. title song (off vocal)
5. main coupling (off vocal)
Hitomi Harada Official website
Madan no O to Vanadis official site