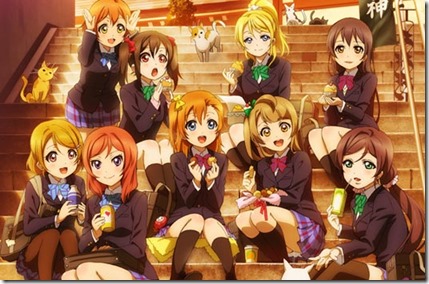 Anime Love Live! School Idol Project season two ending theme Donnatoki mo zutto (どんなときもずっと) single has updated track list and audio PV for coupling track COLORFUL VOICE revealed. Both songs are written by Hata Aki and performed by the fictional idol group μ's (Muse) consisting of the anime's 9 lead voice actresses. Ending theme single Donnatoki mo zutto hits stores May 8th 2014 – more details and PV videos follow.
The anime's opening theme Sore ha Bokutachi no Kiseki (それは僕たちの奇跡) single released on April 23rd 2014 (more details).
The anime's nine lead characters voice actresses form the fictional idol group μ's and perform live during special events – members,
– Kosaka Honoka (CV: Emi Nitta)
– Sonoda Umi (CV: Suzuko Mimori)
– Minami Kotori (CV: Aya Uchida)
– Yazawa Nico (CV: Sora Tokui)
– Ayase Eli (CV: Nanjo Yoshino)
– Tojo Nozomi (CV: Aina Kusuda)
– Nishikino Maki (CV: Pile)
– Koizumi Hanayo (CV: Yurika Kubo)
– Hoshizora Rin (CV: Riho Iida)
Anime Love Live! began in 2010 as a joint project with studios Sunrise, Lantis, and Gengeki G Magazine as a fictional idol group with manga, animated music videos and CD music releases. The anime adaption first season 12 episodes aired starting January 2013 and a smartphone based game released April 2013.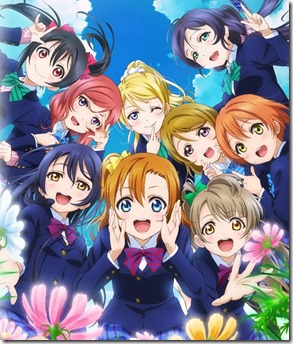 The anime's second season began airing on Tokyo MX April 6 2014 in Japan. Outside of Japan provider Crunchyroll is simulcasting – check our Crunchyroll updates page for all the latest anime episodes or hit the link for Love Live! for episodes and related stories.
Ending theme single Donnatoki mo Zutto First Press version adds member library card (1 of 9). Selected stores offer purchase bonus when OP and ED singles are purchased together – poster, clear file, microfiber towel, jacket size sticker, or other – varies by store.
Preview for coupling track COLORFUL VOICE and TVCM featuring Donnatoki mo Zutto follow below the release info.
Sore ha Bokutachi no Kiseki (それは僕たちの奇跡) – release date April 23rd 2014 
Donnatoki mo Zutto (どんなときもずっと) – release date May 8th 2014
Sore ha Bokutachi no Kiseki (OP) [CD+DVD] (¥2000)

Donnatoki mo Zutto (ED) [CD] (¥1200)

[CD]
1. Sore ha Bokutachi no Kiseki (OP)
lyrics: Hata Aki, music: Kurosu Katsuko

2. Datte Datte 噫無情
lyrics: Hata Aki, composer: Enami Satoshi, arrangement: Masuda Takeshi

3. Sore ha Bokutachi no Kiseki (off vocal)
4. Datte Datte 噫無情 (off vocal)
[DVD]
1. OP animation (textless)

[CD]
1. Donnatoki mo Zutto 
lyrics: Hata Aki, composer: Sasaki Yuu, arrangement: Hase Yasuhiro

2. COLORFUL VOICE
lyrics: Hata Aki, music Watanabe Kazunori
 
3. Donnatoki mo Zutto (off vocal)
4. COLORFUL VOICE (off vocal)